60th Anniversary Calendar Poster Show
Every year, the Madison RPCVs creates the popular International Calendar featuring photos from Peace Corps countries and honoring world cultures. In celebration of the Peace Corps 60th anniversary, the Madison group has created posters from photos included in recent past calendars. These posters are available for free displays, and have been exhibited in schools, libraries, and community centers around the Madison area. If you are interested in displaying posters, complete this form. Use this list of  posters for your reference.
Posters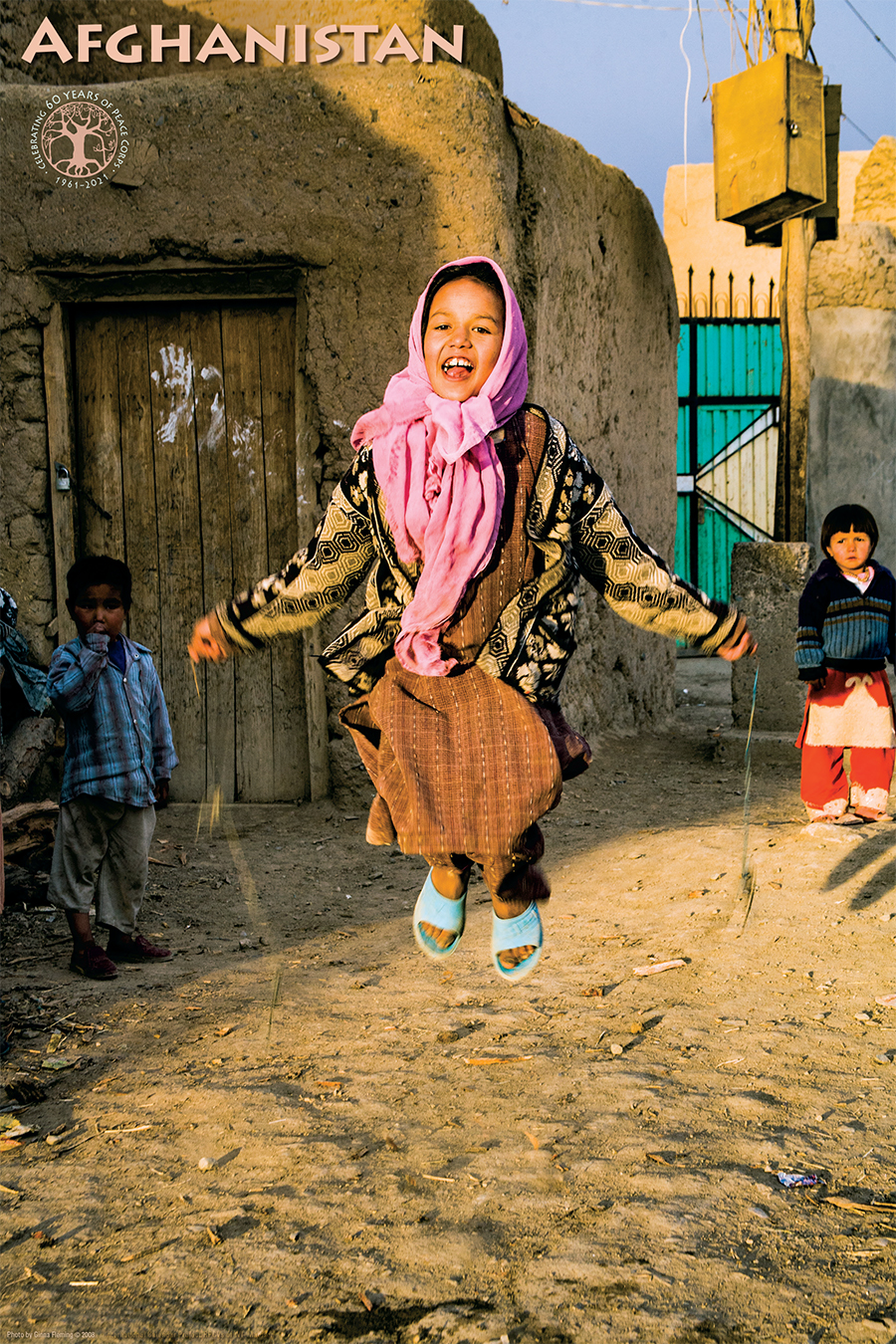 At more than 8,000 feet in the Hindu Kush mountains sits the small town of Bamiyan, home of the colossal 6th-century statues of the Buddha carved into a cliff and destroyed by the Taliban in 2001. For centuries an important East-West trade link along the Silk Road, Bamiyan retains important art and archeological remains. Most of its people, like this girl jumping rope outside her home, are Hazara, a minority ethnic group long persecuted and denied basic rights and opportunity in Afghanistan. Local nonprofit organizations seeking a brighter future for the Hazara support education for girls, orphanages, basic health care, and economic development.
Ginna Fleming © 2008
Peace Corps Nigeria Staff 1961–1963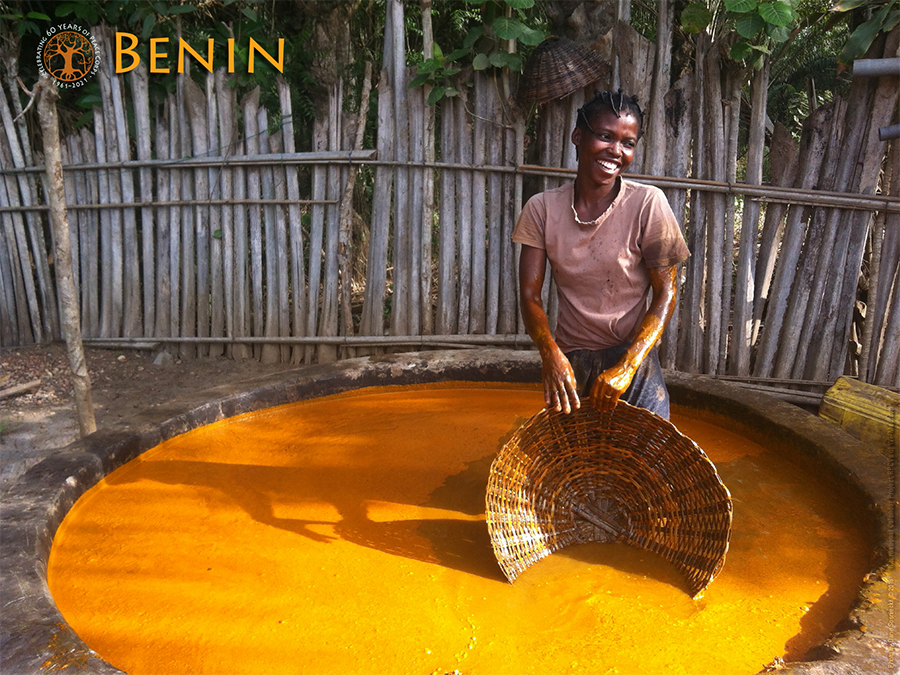 Do not let a perfectly-timed smile or the captivating orange
sludge fool you—processing huile rouge, or red palm oil, is
not a glamorous job. Like most work done by Beninese women, it is a messy, labor-intensive, and time-consuming affair. Yet for young rural mothers in southern Benin, it is also their primary source of income, generating about $34 a month. Despite its controversial reputation globally, palm oil remains an economic staple of West African life, used extensively in traditional cuisine, soaps, and even perfume.
Dane Sosniecki © 2016
PCV Benin 2015–2017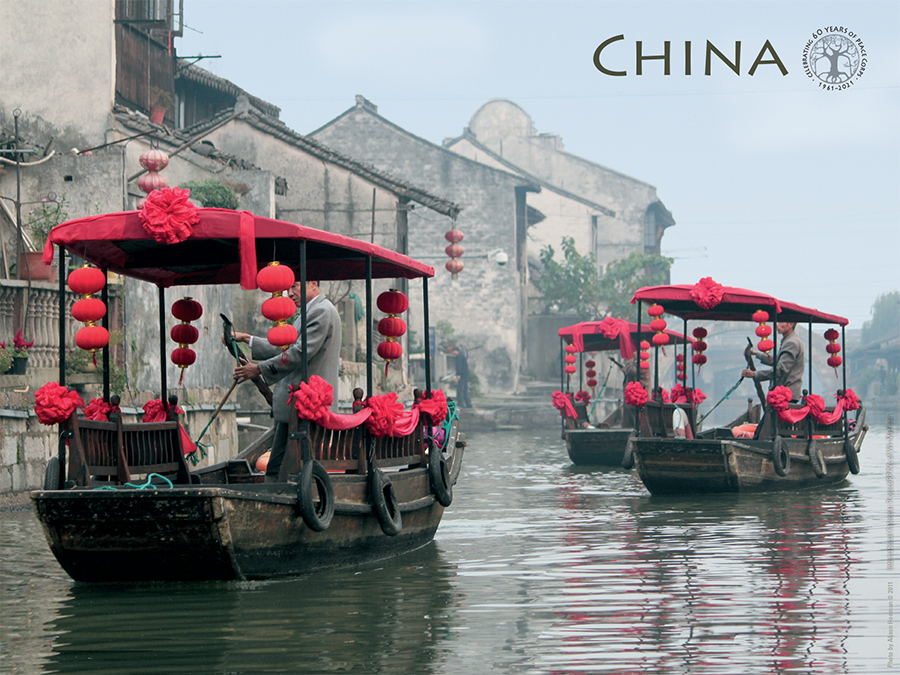 Less than 30 miles from busy Shanghai is the quiet river town of Fengjing where intricately decorated boats shuttle people along the town's canals. A sharp contrast to Shanghai's glass and metal skyscrapers. Fengjing, with its wood and stone houses and its museum of the Cultural Revolution, seems trapped in time. Its real charm, though, is found in the food stands where one can buy cakes filled with red bean pasta and dumplings filled with a piping hot soup. Stinky tofu––which truly is quite stinky––is another favorite, along with pork and cornmeal wrapped in banana leaves. The town also serves as a popular backdrop for wedding photos. It is easy to see why.
Alison Hoeman © 2011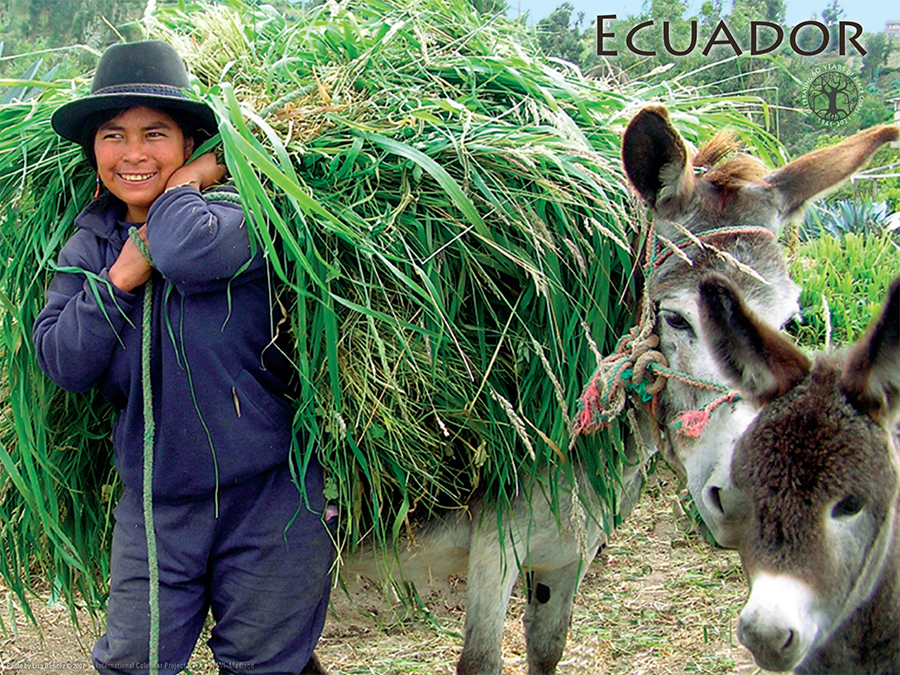 Early in the morning, the men and women of Salasaca, an
indigenous community in the central Andes of Ecuador, head
for the fields. There, they cut fresh grass and alfalfa to bring back
to their sheep, cows, and guinea pigs. Caring for their animals is an important part of daily life, and the job of carrying the heavy loads is shared by the people and their donkeys. Here a colt trots alongside his mother as they make their way back home.
Lisa Benitez © 2007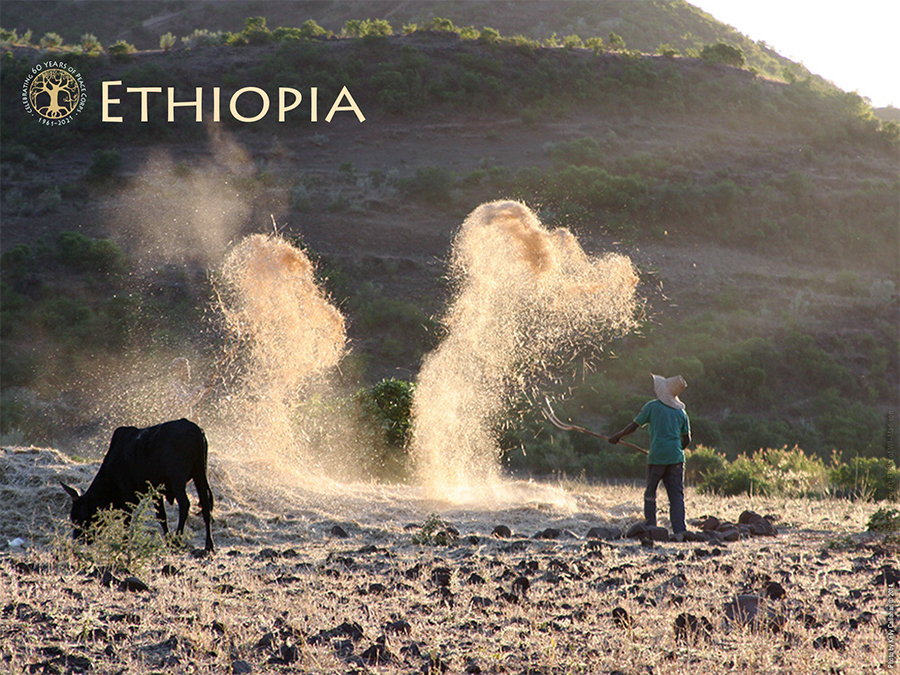 Aman threshes his family's teff harvest in the highlands of Ethiopia, just outside of Lalibela. Teff is a highly nutritious grain used to make injera, the staple bread of Ethiopia. It is essential to the nutrition and ultimately the livelihoods of Ethiopians, who consume injera at least twice a day, everyday. As they say in Ethiopia, A day without injera is not a good day.
Kelly Callahan © 2014
PCV Ivory Coast, 1996–1998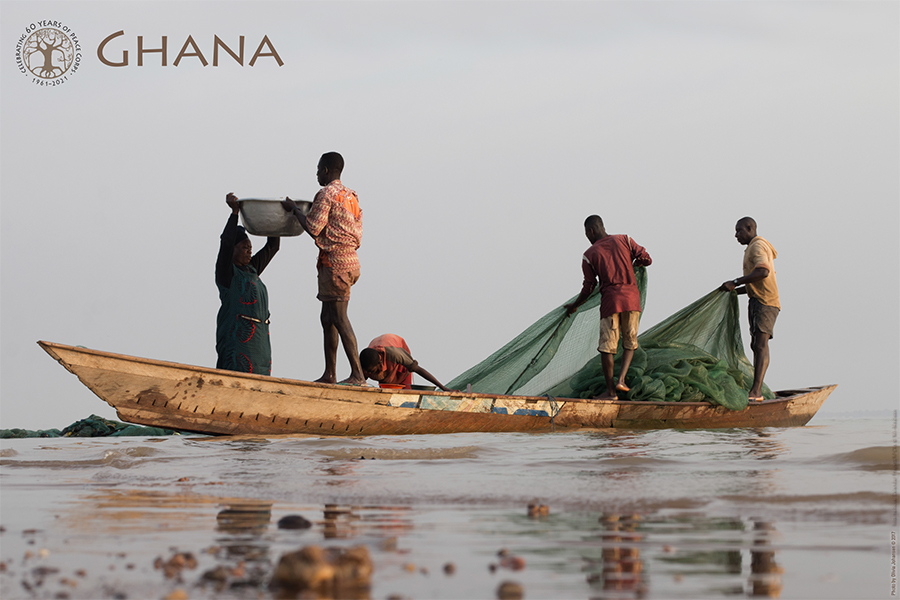 Fish is an important source of protein in Ghana. Included in a
variety of dishes, it is usually sold dried or canned—so fresh
fish is a special treat. Fishermen go out early every morning on
Ghana's Volta River, and when the boats return, women wade out
to meet them, carrying large containers in which they bring the
morning's catch to shore
Olivia Johansen © 2017
PCV Ghana 2017–2018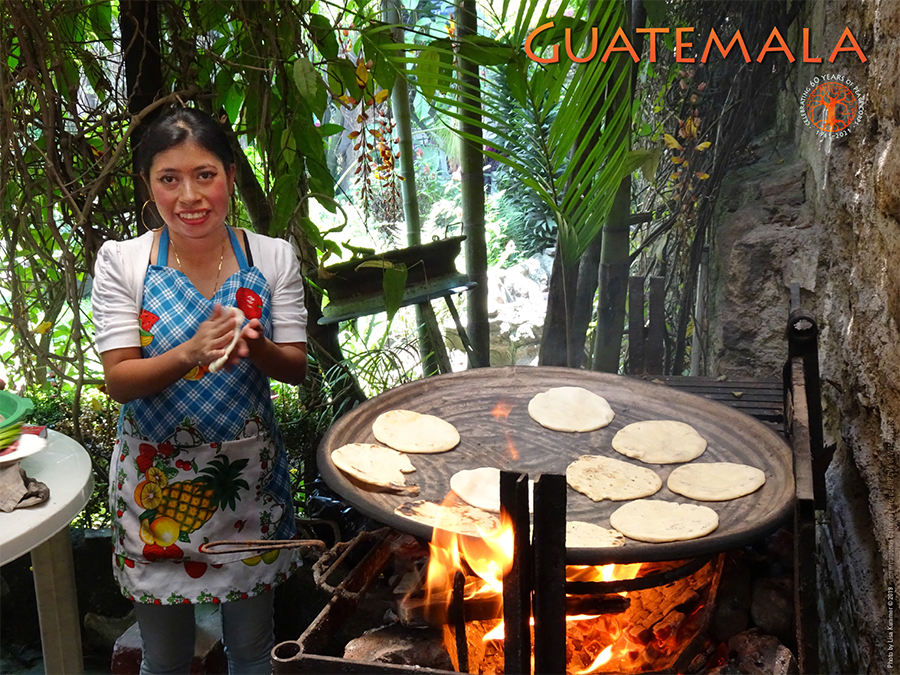 Over an open fire, fragrant maize tortillas are prepared in the
traditional way at the Don Pedro de Alvarado Spanish School
in Antigua. Tuesday is a festive day at the school. To the background sounds of salsa music and children at play, teachers prepare lunch for schoolchildren from a nearby village, who come to the school to play together, enjoy a good meal, and socialize with the foreign students there to study Spanish.
Lisa Kummer © 2019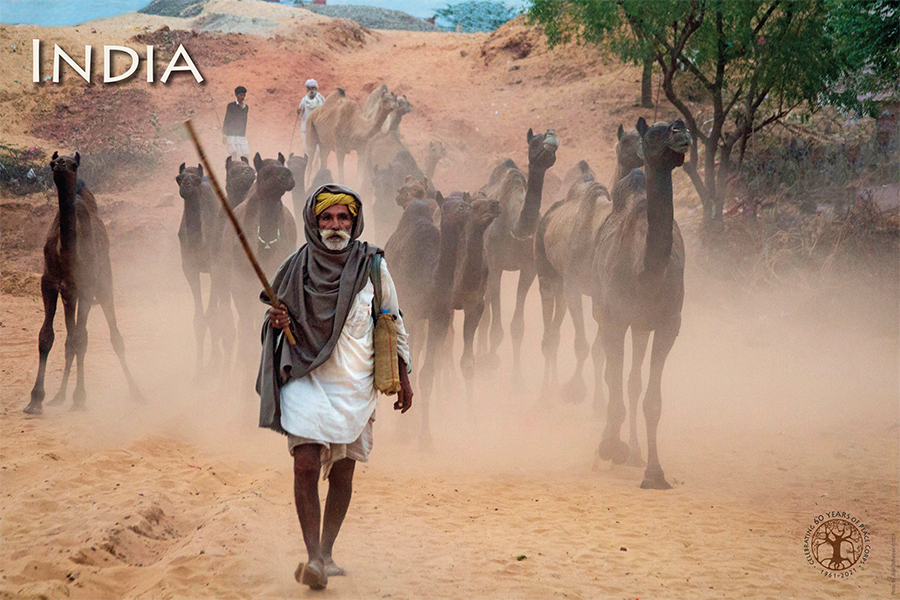 Leading his camels to the annual Pushkar Mela, or fair, that draws vendors, visitors, and religious participants from all over India's desert state of Rajasthan, this herder is headed for the fair's camel shows and livestock market. Several thousand camels and other animals are bought, sold, and traded during this five-day event, which takes place during the full moon of late October or early November. Camel herders, musicians and dancers, and other visitors are joined by Hindu pilgrims who come to take a holy dip in Pushkar Lake under the full moon to wash away sins and seek salvation.
John Donelson © 2016
PCV Ghana 1965–1966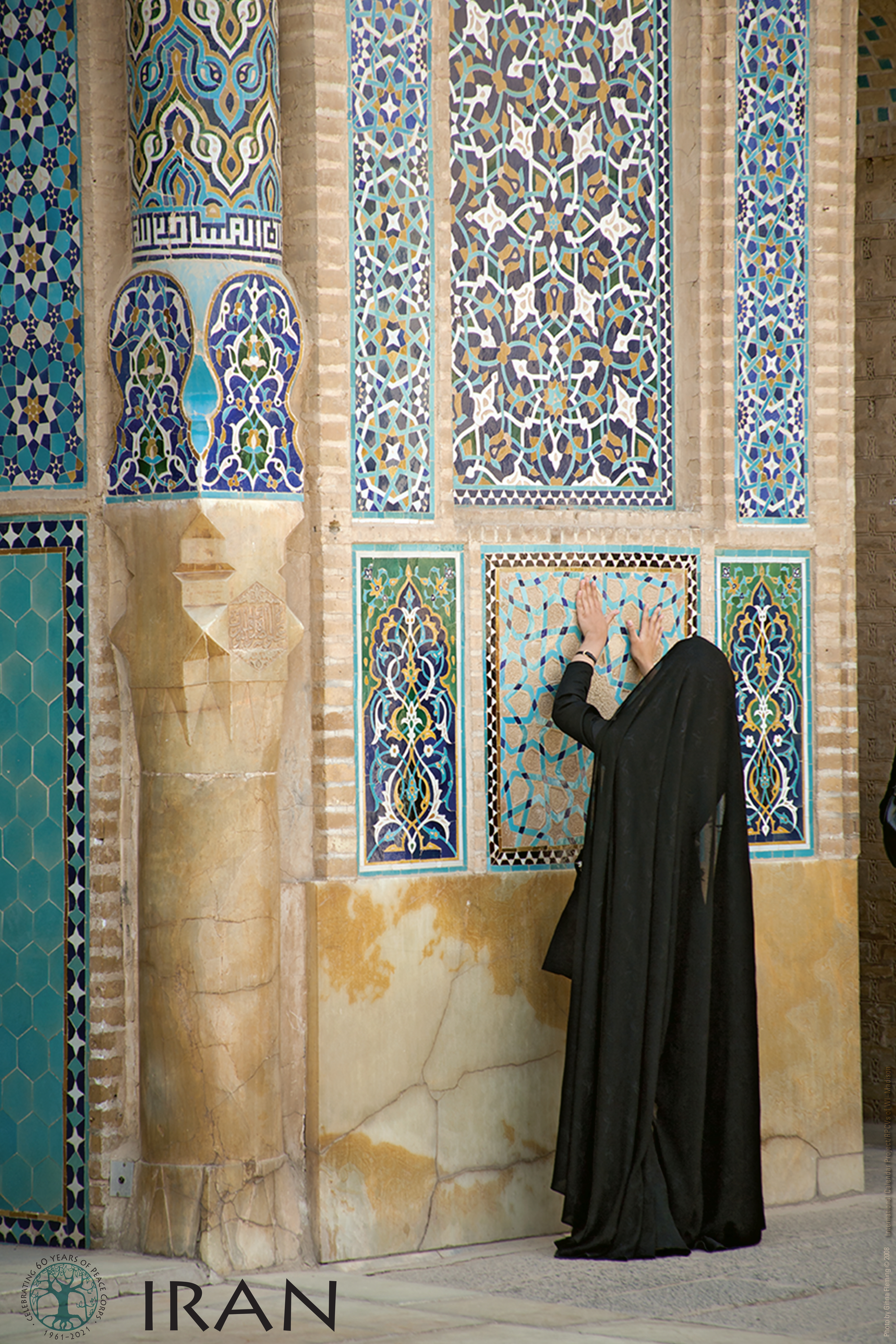 The Masjed-e Jameh, or Friday Mosque, rises over the mud-
brick houses of the desert city of Yazd, once a rich trading city along the Silk Road. With exceptionally tall minarets, it is a
magnificent example of the 14th-century Azari period of Persian
architecture and mosaics. Families who come to sit in the central
courtyard of this congregational mosque sometimes show their
reverence for the symbolism and beauty of the building itself—as
this woman does in tenderly laying her hands upon the tiles.
Ginna Fleming © 2008
Peace Corps Nigeria Staff 1961–1963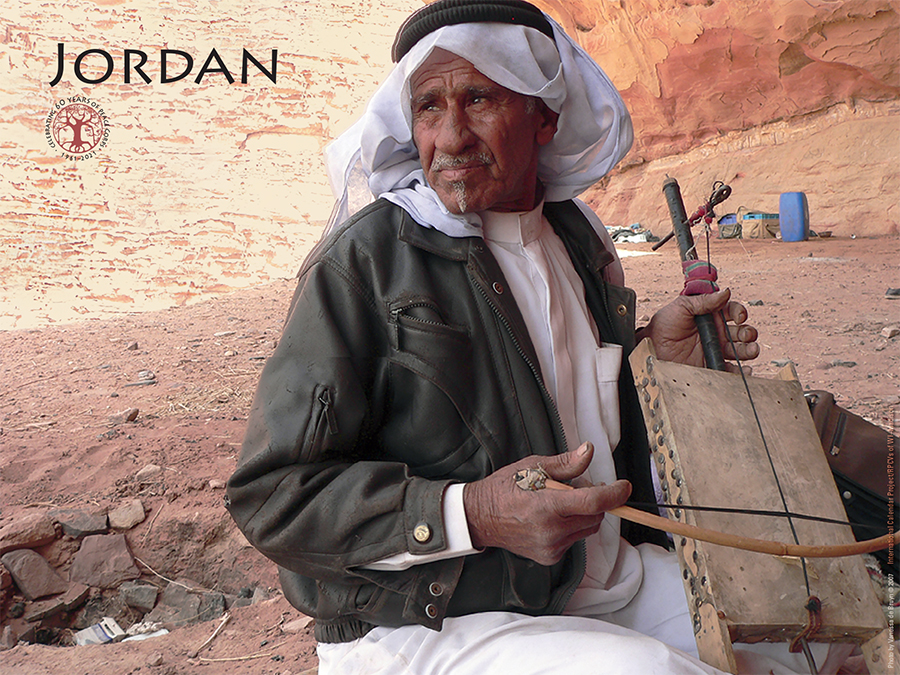 In the hot dusty desert of Wadi Rum, a Bedouin family picnics in the cool shadow of a rock overhang. In keeping with traditional Bedouin hospitality, they invite us to stay and visit over glasses of hot, sweet tea. The real treat comes when the father, Musellum, takes out his rababa and begins to play song after song. We clap along to his Arabic tunes, and laugh out loud when he throws in occasional English words: "One, two, three, four, hey, hey, hey!" Musellum insists on photographs of himself and his family, and whenever I set my camera down, he cries, "Take more pictures!"
Vanessa de Bruyn © 2007
PCV Jordan 2005–2007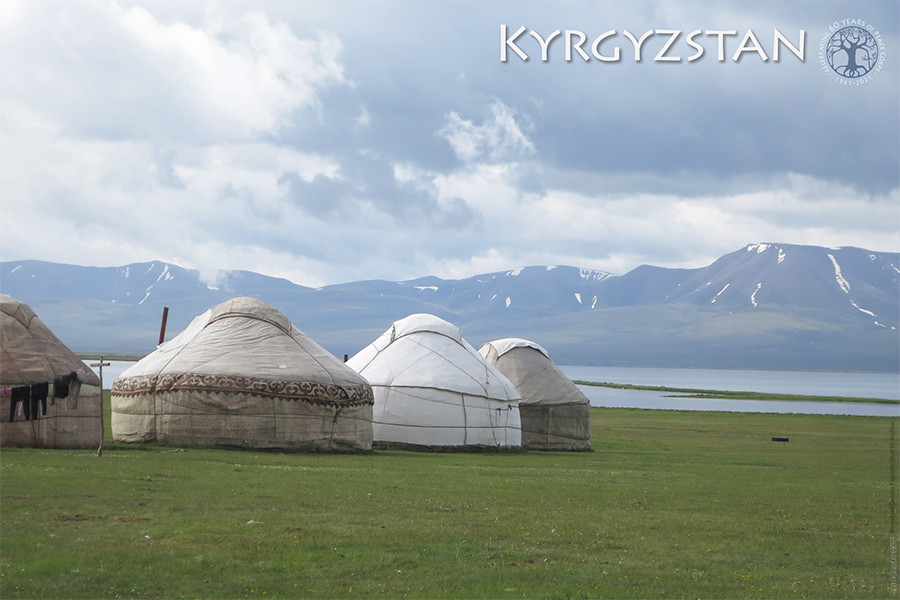 Accessible only from June through August, Lake Söng-Kol sits
beside a lush jailoo, or summer pasture. Ringed by mountains,
this is the summer home to semi-nomadic shepherds and their
families, who graze goats, sheep, and cows—and host curious
travelers eager for yurt-stays. Yurt floors and walls are covered with shyrdaks, colorful felted carpets, and stoves are fueled with dungfor warmth on cold nights. Kyrgyz hospitality includes tea, kumis—the traditional Kyrgyz drink made from fermented mare's milk—and delicious dumplings made with vegetables and meat.
Sharon Keld © 2017
PCV Morocco 2006–2008
PC Response Philippines 2009–2010, Armenia 2011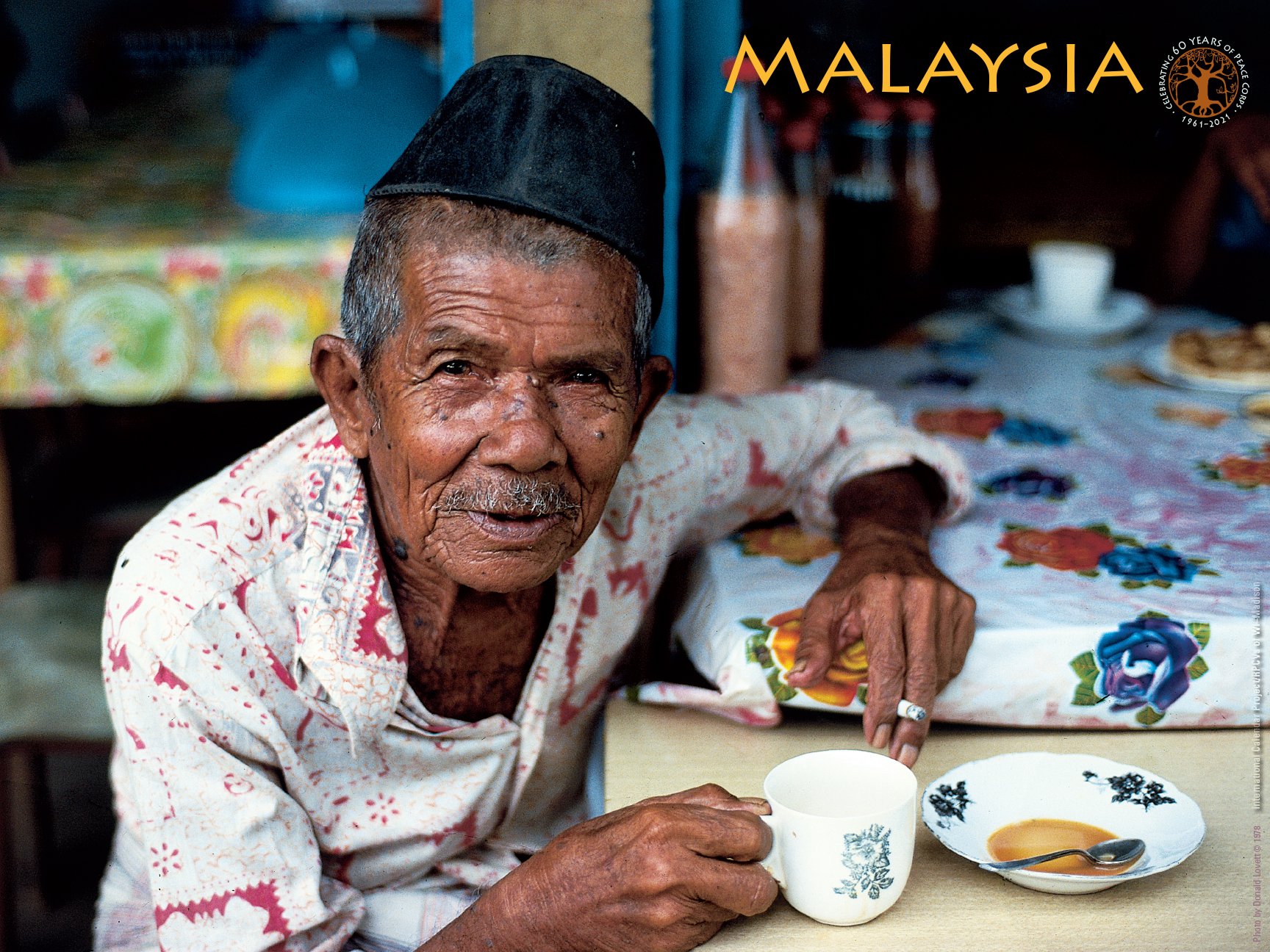 In Malaysia, the local food stall, or gerai, is the place to gather
with old friends or to meet a new stranger, share a hot drink,
grab a snack, discuss the weather, or catch up on gossip. Here,
the oldest resident in the village of Kampong Klebang Besar chats while enjoying his morning coffee—which is always served strong and sweet, with lots of sugar and sweetened condensed milk. His distinctive hat, or songkok, and locally made batik shirt are the traditional dress of Malay men.
Donald Lovett © 1978PCV
Malaysia 1978–1981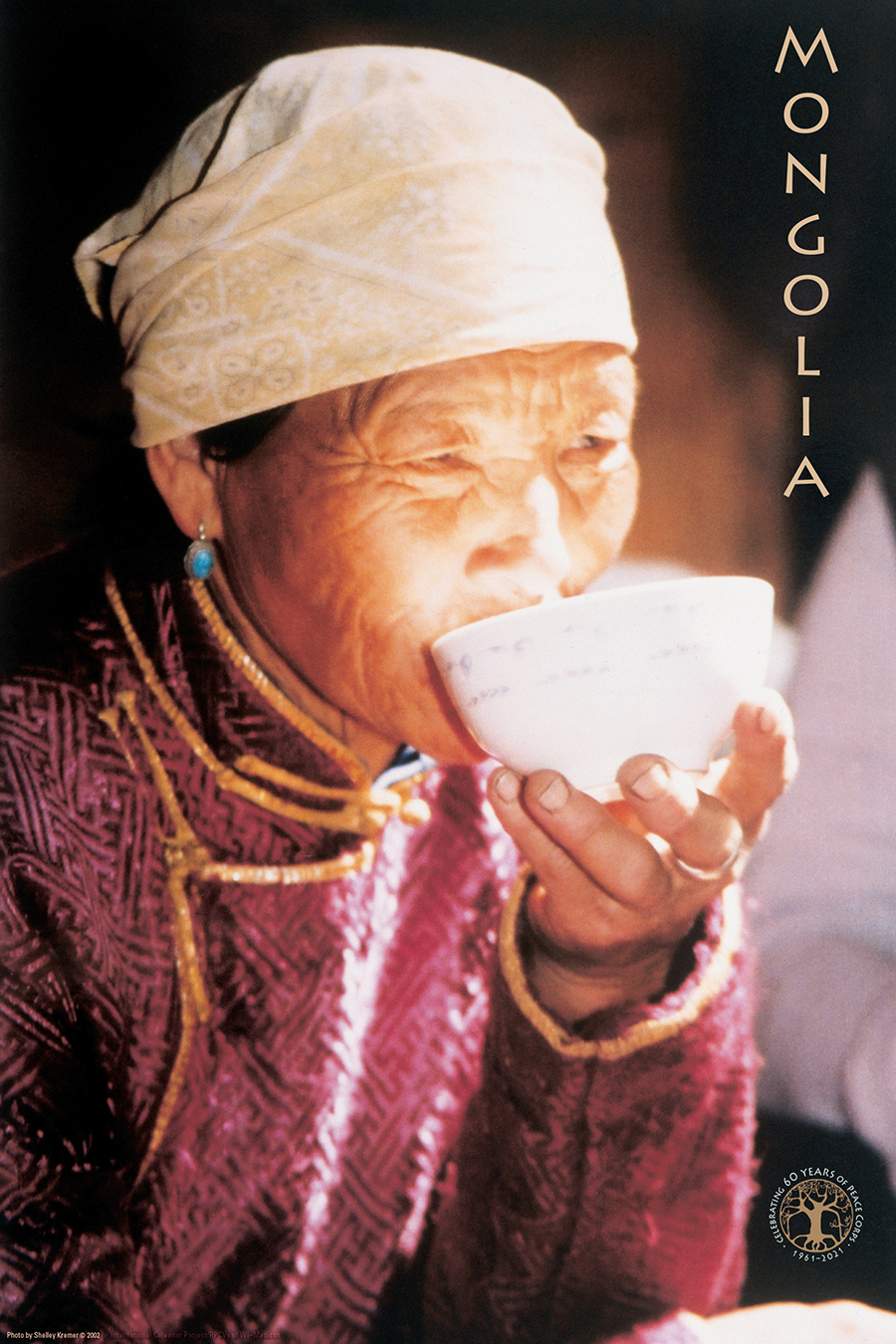 Mongolian milk tea, made from dried tea leaves boiled in water
to which milk and salt are added, is graciously offered to every
guest entering a ger (yurt). The type of milk used depends on which animals are producing milk at a given moment: the milk can come from camels, goats, reindeer, cows, or yaks—and each is delicious.
This woman's deel, or traditional Mongolian tunic, is made of silk and lined with cotton in summer and sheepskin in winter. Each ethnic Mongolian group has its individual deel, distinguished by cut, color, and trim—but all deels typically have long sleeves, a high collar, and buttons on the shoulder.
Shelly Kremer @ 2002
PCV Mongolia 2001–2003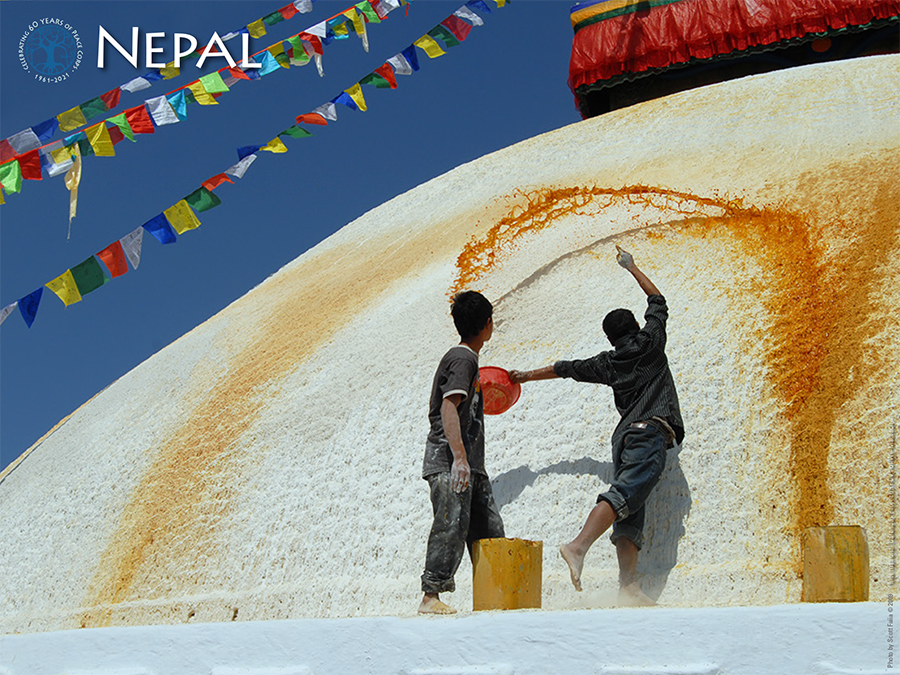 In the Kathmandu Valley of Nepal, the Losar Festival celebrating
Tibetan New Year ends with the great Boudhanath stupa receiving a fresh coat of white paint to welcome in the new year. The final touch comes with the addition of color to represent lotus leaves encircling the stupa.
Scott Faiia © 2009
PCV Malaysia 1973–1975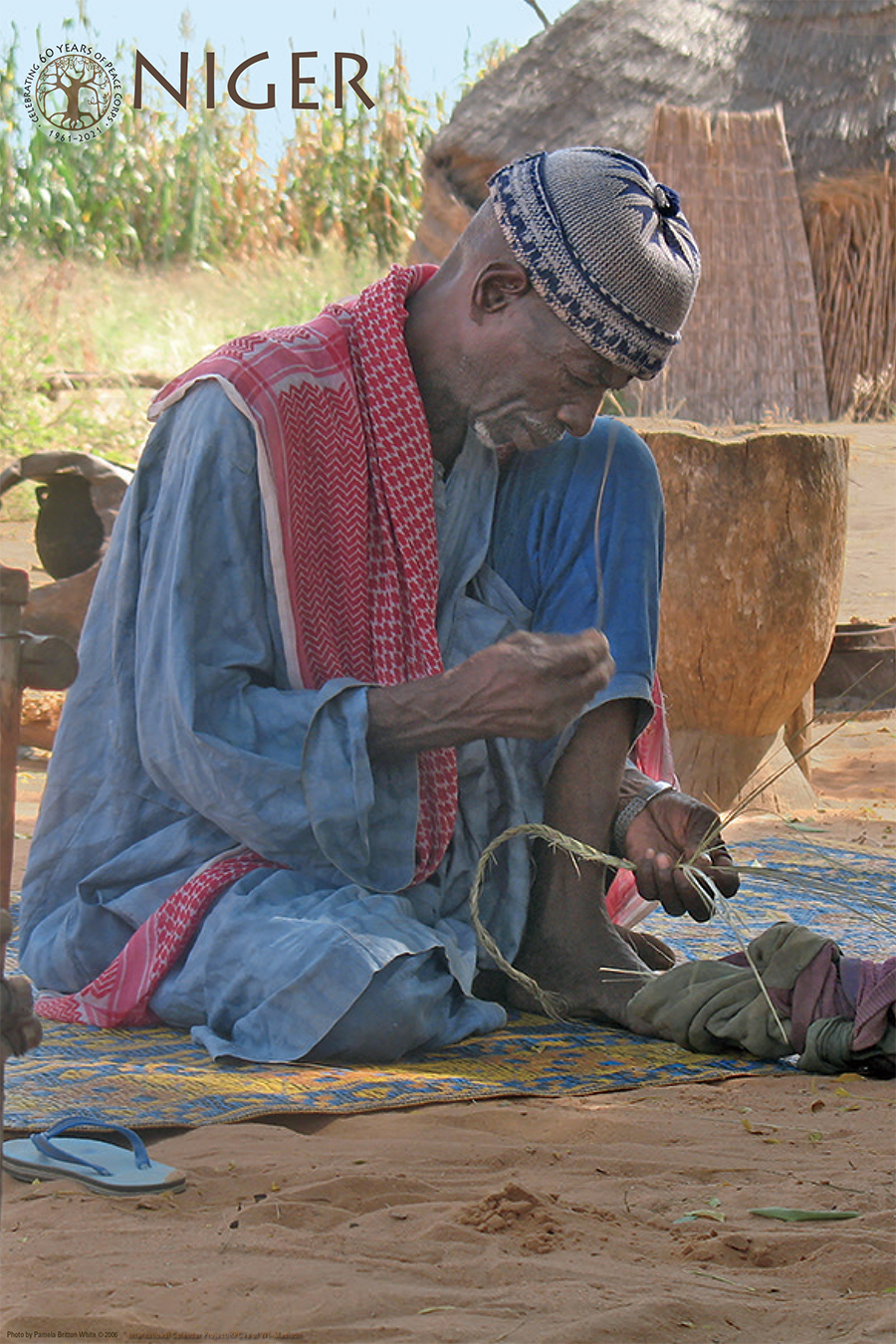 The village of Boundissinti is small and remote—mostly straw
houses and a few mud-brick structures surrounded by millet
fields. With the entire village of sixty people gathered under the
shade tree for an important meeting, a few older men sit braiding
grasses into rope. The grasses are formed into a starter loop that
is hooked over the big toe as an anchor, allowing the weaver
to braid the grasses into long lengths of rope. As the meeting
progresses and the discussion continues, the ropes grow longer
and longer.
Pamela Britton White © 2006
PCV Niger 1969–1970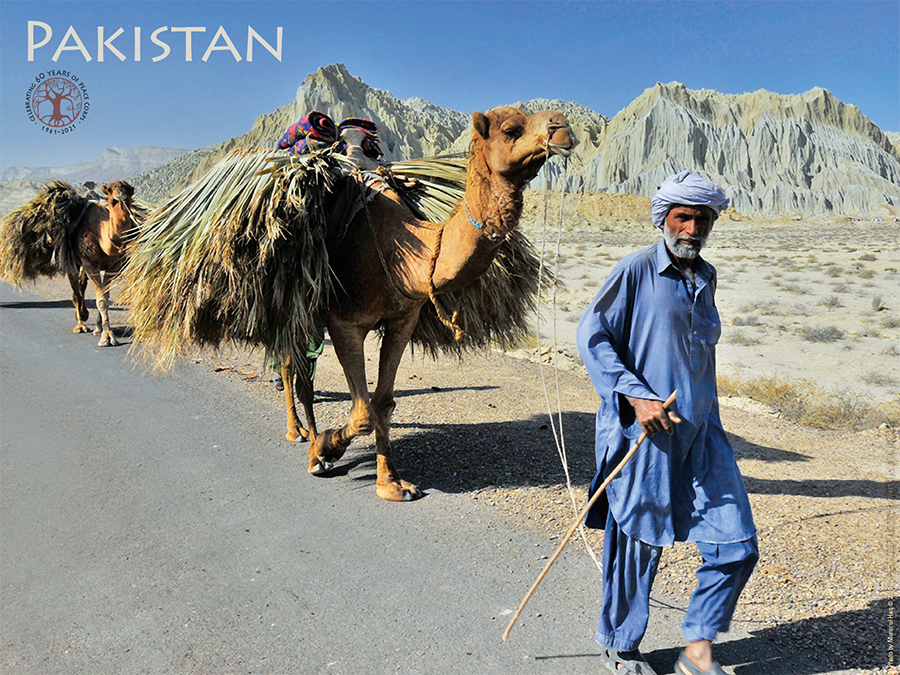 The Hungol Valley along Pakistan's southern coast is known for its fantastic towering cliffs, pinnacles, and buttresses. The park includes six distinct ecosystems, with large tracts covered by drift sand and classified as coastal semi-desert. Recent construction of a highway connecting Karachi with the port city of Gwadar on the Arabian Sea has made the Hungol National Park more accessible to visitors. Despite the fact that Gwadar is another 200 miles away, this man leading his camels across the park is in high spirits. As he passes, he nods but does not stop, his continuous motion reflecting his determination to reach his destination.
Munir ul Haq © 2010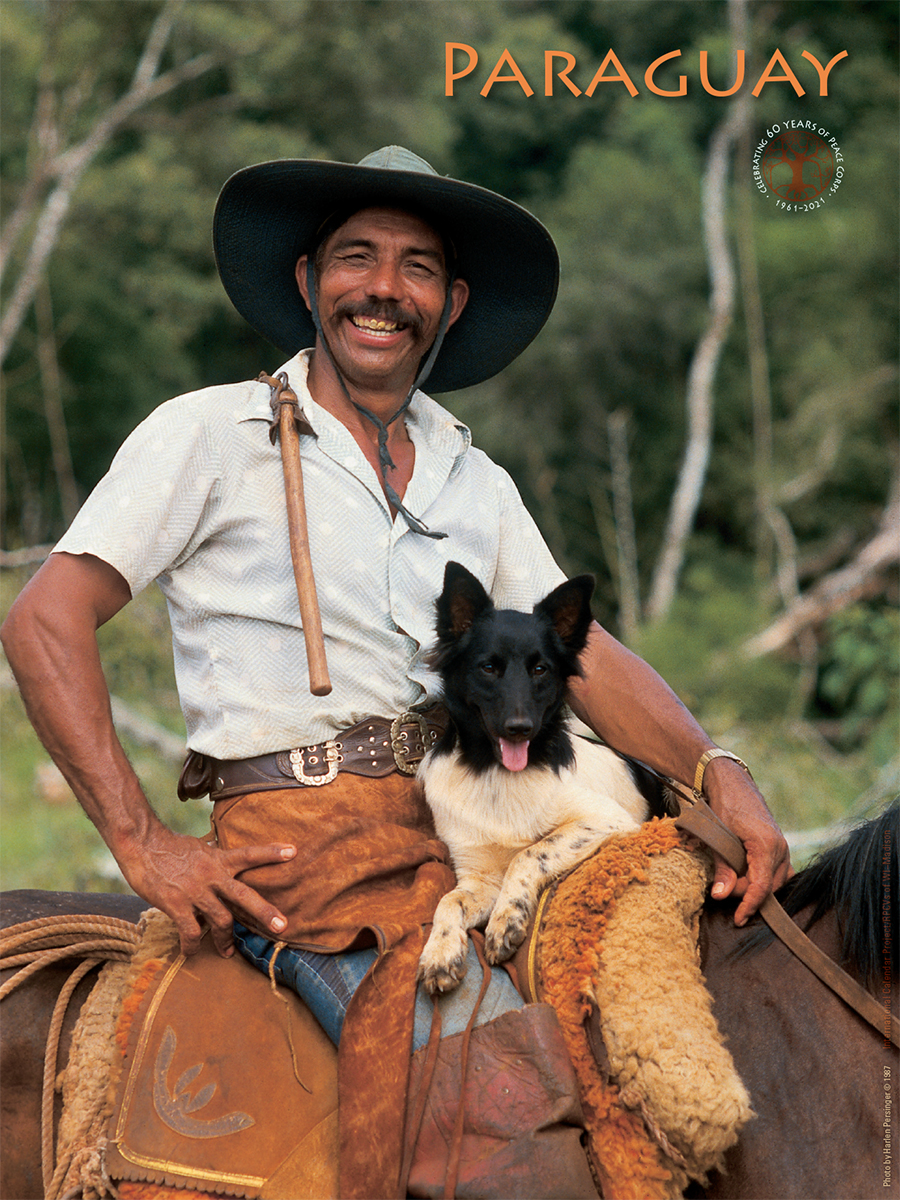 Paraguayan cowboys rely heavily on their dogs to keep close contact with their cattle, so they can manage the herd from their horses. Weary after a long day of working with the cattle, this cowboy and his trusted partner prepare to rest and unwind. A cup of cold herbal tea—the national drink, served in a cup carved from a cow horn and sipped through a metal straw—awaits. Paraguay has a rich culture, with customs and beliefs that are held very dear. It is the only Latin American country where in addition to speaking Spanish, most people still speak Guaraní—the language of the ancestors.
Harlen Persinger © 1987
Traditional agriculture practices of transplanting rice seedlings
are still followed today by the Ifugao, an indigenous people of the
Philippines whose culture has been centered around rice farming for nearly 2000 years. Terraces that begin at the base of the mountain range and extend several thousand feet up are irrigated by mountain streams that flow into canals and down through the terraces. Hugging the contours of the mountains and overlooking the town of Banaue—the base point from which many tourists hike this UNESCO World Heritage site— these terraced hilllsides attest to the enduring traditions of the Ifugao.
Karen Grace Lee © 2016
PCV Panama 2009–2011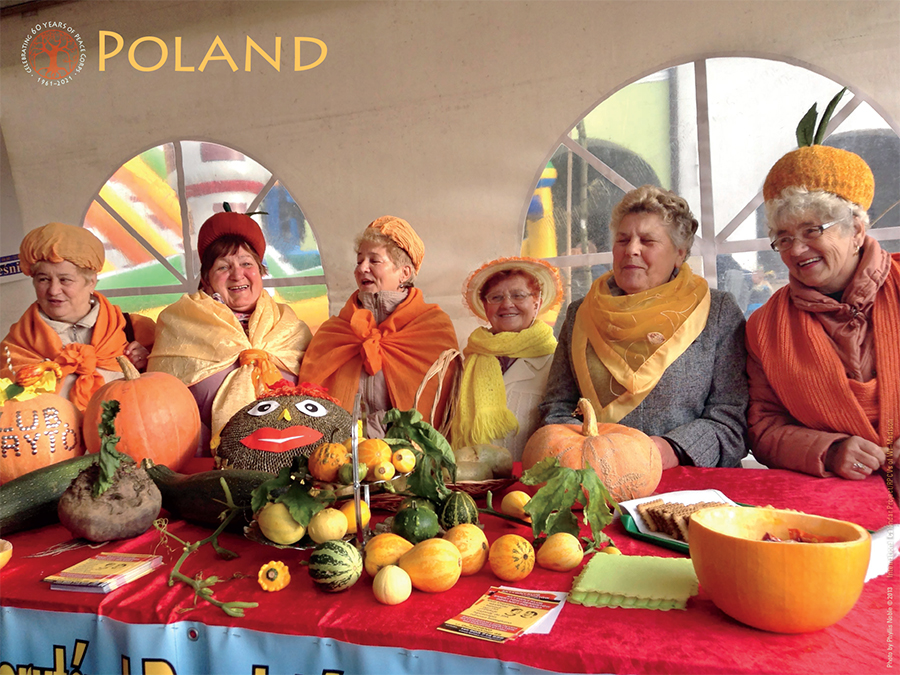 On a chilly Sunday afternoon in the old market square in Krosno, senior citizens in squash-inspired hats and shawls merrily hold forth at a local Harvest Festival. Pumpkins and many varieties of squash are on display, celebrating the bounty of the season. Nestled in the foothills of the Carpathian Mountains in southeastern Poland, Krosno is famous for fine handblown
glassware—and for oil wells, first drilled in the mid–1800s that
today still pump right alongside family farms.
Phyllis Noble © 2013
PCV Nigeria 1965–1967
Papa Gidion is a genuinely kind and light-hearted teacher at the Ecole Secondaire de Kagogo in the green hills of northern Rwanda. Here, though, he appears quite serious as he sits in the teachers' lounge planning his chemistry lessons. Behind Gidion is an enormous hand-written timetable, the schedule of the school's classes for each day of the week.
Nicole Gaunt © 2009
PCV Rwanda 2009–2010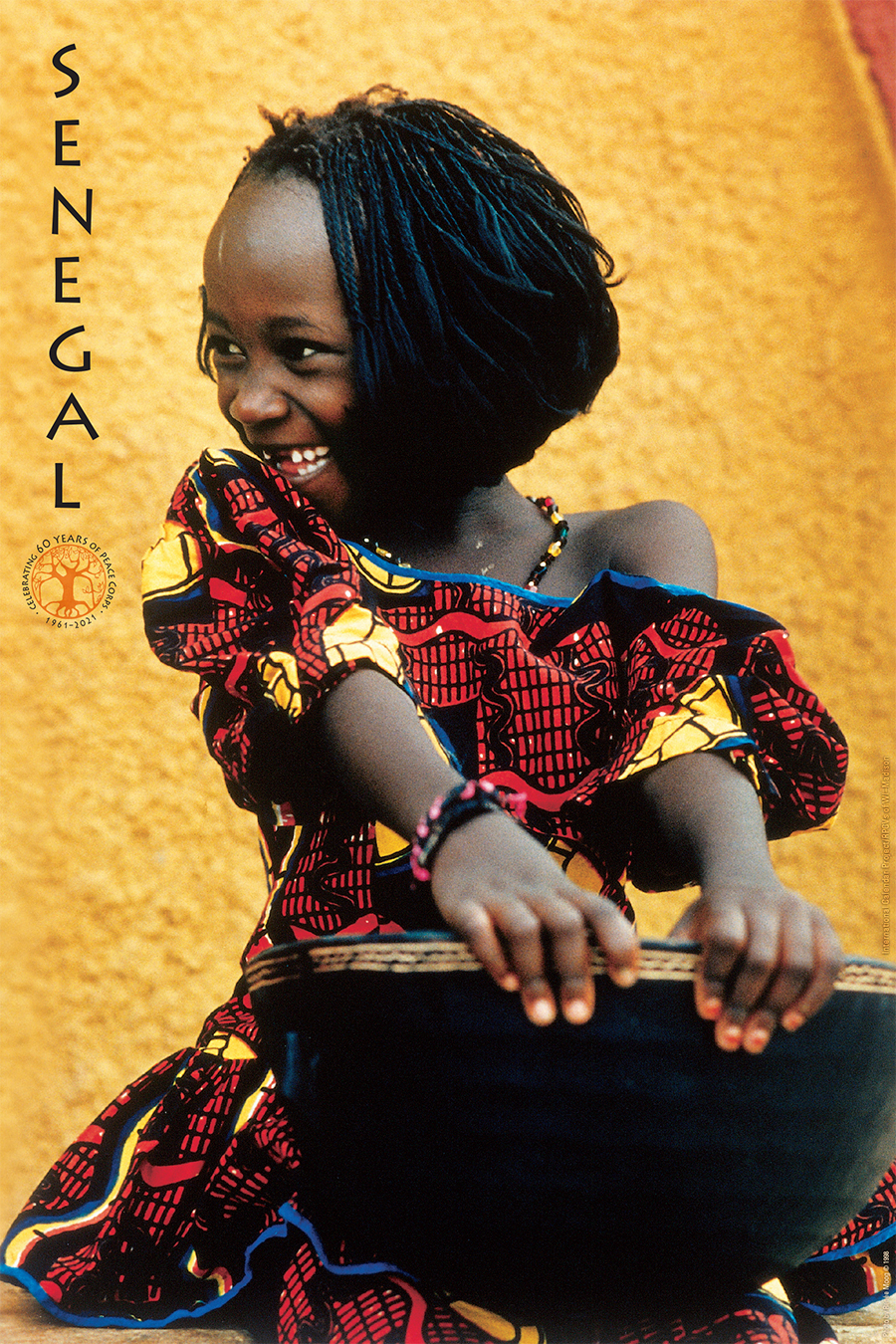 APulaar girl happily cradles a bowl of fresh milk in northeastern
Senegal, where by the traditions of this herding culture, young
boys milk the cows into wooden lahals—carved milking bowls.
Reflecting other long-standing Pulaar traditions, these wooden
bowls are made only by certain families—those born into the Laubé caste of woodworkers. In addition to continuing to carve milking bowls, Laubé woodcarvers make such items as wooden stools and handles for agricultural implements—despite the ready availability of plastic buckets and bowls from abroad.
Renée Moog © 1998
PCV Senegal, 1987–1989
Rumored to be the largest livestock market in the world, the
Al-Moheli Souk camel market on the outskirts of Omdurman is
where camels are brought from all corners of Sudan to be traded
and sold. Camels are sold in groups, and men negotiate price based on the type of camel and the work for which it is intended. Moving among the camels and other livestock spread over acres of empty desert, friendly traders eagerly show off their animals—even to visitors from abroad who won't be making any purchases.
Denise Silfee © 2016
PCV Thailand 2011–2013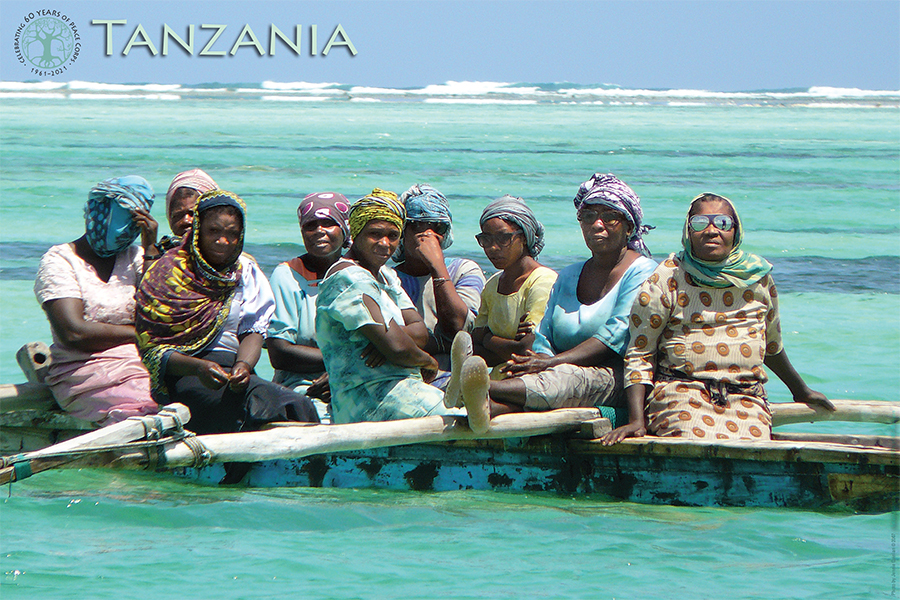 Every day at low tide, groups of women set forth from Zanzibar's
Stone Town beaches, bound for the exposed coral reefs of the
Pemba Channel in search of mollusks and other tidal treasures to
eat and sell. With the return of the high tide, the women—now far
from the shore and waist-deep in the warm, crystal-clear waters
of the Indian Ocean—are picked up by boat to return to their villages.
Jennie Quinlan © 2017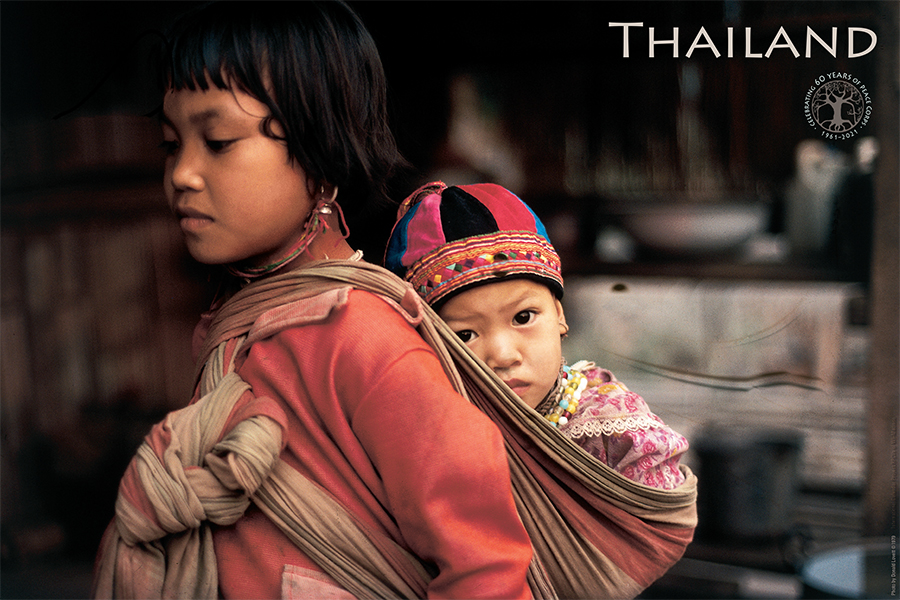 The Lahu are an indigenous people who live in small, isolated villages in the hill-tribe region of northern Thailand. By tradition, they are hunters and slash-and-burn subsistence farmers who cultivate small patches of upland rice, corn, and opium poppies. Their simple houses of bamboo and thatch are built on stilts, with pigs and chickens living beneath. Their traditional way of life stands in contrast to many of the influences of modern culture. Although education is available for those who live in villages nearer to towns, many hill-tribe children, like this young Lahu girl and her little brother, remain in their village, helping with chores, caring for siblings—or just playing as all children do.
Donald Lovett © 1979
PCV Malaysia 1978–1981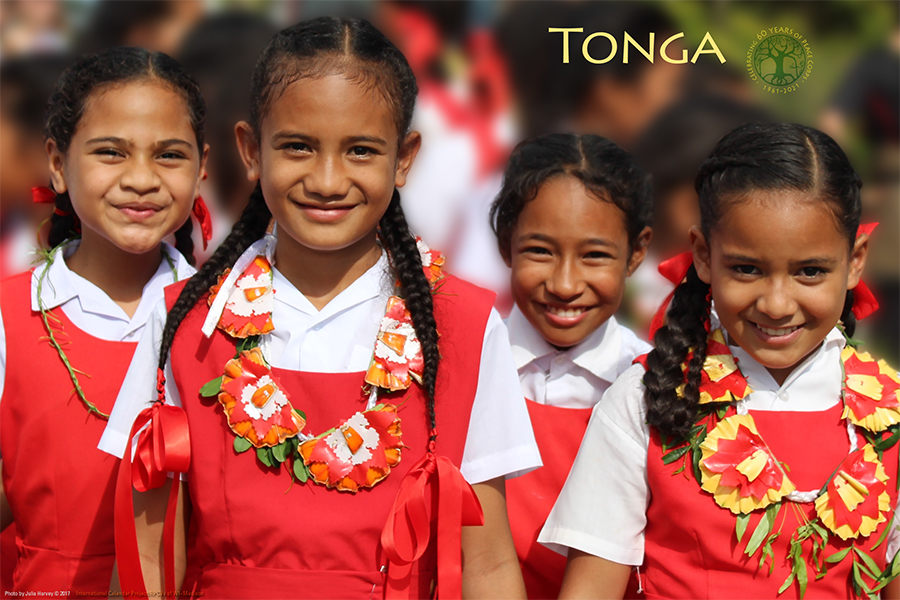 Everyone loves a parade! On a warm and sunny afternoon,
schoolchildren gather near the wharf in Nuku'alofa in anticipation
of a parade winding through town. While musicians from Tailulu
College play their brass instruments, primary-school students wearing faka'otusia, leis made into ornate designs from the fruits of the native Pandanus tree, line the street, hoping to catch some candy thrown by the marchers.
Julia Harvey © 2017
PCV Tonga 1990–1992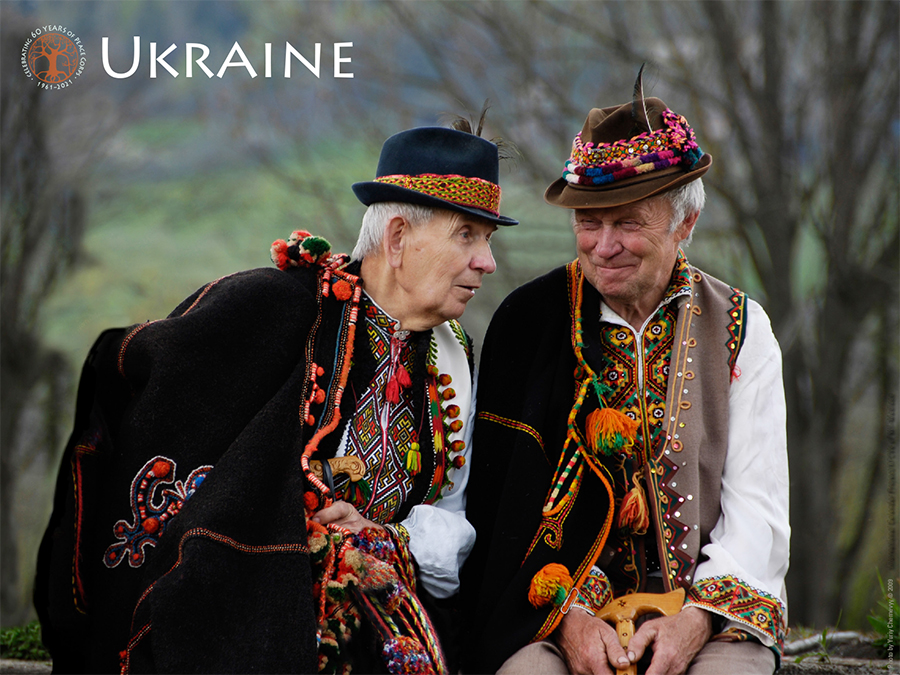 Ukrainians proudly show off their heritage at traditional weddings
and festivals that celebrate important cultural events or honor
national and political heroes. Ukrainian folk dress is still made by
hand, and the rich embroidery and styling details of such traditional clothing reveal ethnic and regional origins.
Yuriy Chernevyy © 2009