Mark your calendars for the 43rd Annual Freeze for Food!

Saturday, March 2, 2024 

(to be confirmed)

---

2023 RACE RESULTS FROM ItsRaceTime ARE AVAILABLE BELOW

---

Ready to do something proactive about immigration due to conflict or climate change? Watch this space for next year's Freeze for Food 5K/10K sponsored by the RPCVs of Wisconsin-Madison. We raise funds to support food security programs of Madison's Open Doors for Refugees, a nonprofit organization dedicated to supporting the resettlement of refugees in the Madison area and welcoming them into the community.

---

SUPPORT MADISON'S REFUGEES

The Afghan refugees who recently fled their country for the safety of the U.S. have been resettled in towns and cities across the country. As of spring 2022, more than 37 individuals have arrived in Madison with more to follow. They joined the ranks of many other refugees here, mostly coming from the Democratic Republic of the Congo and other African countries over the last few years, or from Syria, Iraq and Afghanistan over the several years before that. New needs may come from Ukraine, as millions flee their war-torn country. For all, when they get to Madison, one leg of their difficult journey ends, but another just begins. They need to make a living while they learn a new language and new customs. They miss families they left and worry about their ongoing dangers. In this pandemic period, as new arrivals, many have low-paying jobs as front line workers. Some have lost jobs, and some entire families have contracted COVID-19. They often struggle to buy food and pay rent and other bills.

Your registration fee and donations can help over 100 families feel more welcome and supported in a new city. Be part of Madison's safety net while you run or walk and enjoy Wisconsin's beautiful outdoors. All proceeds from Freeze for Food will be used for food security and relief efforts for incoming refugees.

---

2023 SPONSORS

Generous support by our sponsors (2023 sponsors below) means that 100% of registration fees goes to Open Doors for Refugees. If you'd like to be a sponsor in 2024 and see your name on this list, send an email to  freeze (AT) rpcvmadison.org.

Fleet Feet level ($500+)

 

Swift Feet level ($300+)

 

Happy Feet level ($200+)

Friendly Feet ($100+)

Karl's Family Dental
Monroe Street Family Dental
State Farm Insurance
Still I Run
United Nations Association of Dane County
Anonymous x many

 

Your donation in any amount is a 100% pass through to Open Doors for Refugees. 
History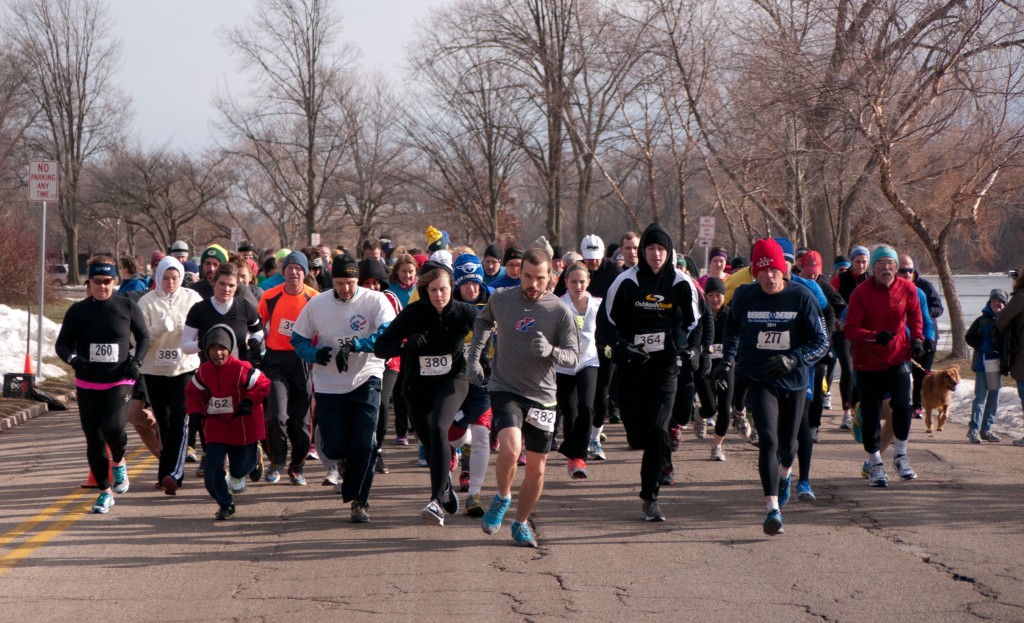 | | |
| --- | --- |
| Recent Years Runner Placement | Past Years Reports |

A Short History of the Freeze

The Freeze for Food has been a labor of love for the RPCVs of Madison. Through the years it has been passed on from member to member to manage as a fundraiser for food security projects. After the International Calendar began making a profit (around 1992), a certain amount from calendar sales has been allocated to supporting the expenses of the Freeze – currently at the rate of $2,000 per race. Following is a short history of the event's managers and fund beneficiaries. Of course, many RPCVs (whether group members or not) and friends have played a huge role on race day to help with the details, usually around 30 people getting together to enjoy a crisp winter day.

1982: Wade DallaGrana (RPCV Lesotho 1976-1978) started the Freeze for Food. The group was raising money for Oxfam, and Wade was a runner; he put 2 and 2 together, and started the fundraiser. Wade's last race was 1990.
1990: Deb Stapleton (RPCV Honduras 1985-1987) managed the Freeze for the next four years.
1994: Dave Hamilton (RPCV Honduras 1985-1987) took over for another 4 years through 1998.
1999: Peter Joyce (RPCV Guatemala 1981-1984) and Rick Lackey (RPCV Micronesia 1982-1984) took it up. Peter noticed the burnout working with Oxfam and that as a global organization, Oxfam really did not know what we were doing. He proposed to the Board that we work with a local group instead of Oxfam, thinking that they would have a better connection, and could provide us with people on race day. Someone stated that we should work with one of the Madison Sister City projects. We asked all 6 or 7 groups to make us a one page proposal. Only two groups responded: Working Capital for Community Needs (WCCN) and Colombia Support Network (CSN). CSN's was the better of the two.
2011: Kate Schachter (RPCV Ghana 2004-2007) agreed to manage the Freeze, not wanting to see it fade away when Peter and Rick decided it was time to step aside. However, she wanted CSN to help with the planning, not just on the day of the event. Jack Laun (co-Director of CSN and RPCV Panama 1967-1969) agreed to co-chair the planning. Other RPCV and CSN members were also brought into the planning team.
2016: Stephanie Shelton (RPCV Tonga 2012-2014) and Tom Felhofer (RPCV Malawi 1988-1990), both committed Freeze volunteers and runners for several years, agreed to co-chair with CSN. A switch was made to a chip timing company, which made a big difference in expenses, but also in donated profits.
2017: Because of the increase in the refugee crisis in Syria, as well as other countries worldwide, Steph and Tom presented an alternate beneficiary of the Freeze funds to the Board. Open Doors for Refugees, formed in Madison, was selected. Madeline Uraneck (RPCV Lesotho 2004-2009) from Open Doors liases on the race details.
2018: Kate returned from Peace Corps service in Georgia, and rejoined the organizing team with Tom, Steph and Madeline.
2019: Lauren Troxtel (RPCV Ethiopia 2012-2014) stepped forward to be the Race Director. Kate and Madeline remain on the team, Tom and Steph are backing up while slowly backing out, and as always we work with a lot of volunteers.
2020: Lauren, Tom, and Kate remain on the team. Madeline and Joyce Muxfeld (Open Doors for Refugees member) represent Open Doors support in producing the event. The event was held two weeks before the pandemic shutdown all in-person events.
2021:Tom Felhofer, Ashley Gries (RPCV Panama 2008-2010), Joyce Muxfeld, Cassie Rademaekers (RPCV Nepal 1983-1985), Kate Schachter, Madeline Uraneck, and Kathleen Wannemuehler (RPCV Kenya 1994-1996) create a team from both the RPCV Madison and Open Doors organizations. Forty years of the Freeze for Food and a pandemic have made us get creative about how to run a safe race. It is Runner's Choice over the course of two days!
2022: Tricia Blanco (ODFR and RPCV Honduras 1982-1984), Jessica Collins (ODFR), Julet Frazier (community volunteer), Cassie Rademaekers(RPCV Nepal 1983-1985), Kate Schachter(RPCV Ghana 2004-2007, Georgia 2016-2017), and Kathleen Wannemuehler (RPCV Kenya 1994-1996) are this year's team, planning another new way of running the event as a Runner's Choice: in-person or virtual from anywhere in the world to suit runner's preferences. We found that the generosity of the running community, combined with current world events around refugees and immigrants, means that we all care deeply about good community citizenship and support.
2023: Tricia Blanco (ODFR and RPCV Honduras 1982-1984), Jessica Collins (ODFR), Julet Frazier (community volunteer), Erica Hoyt (ODFR), Matt Munns (ODFR), Kate Schachter(RPCV Ghana 2004-2007, Georgia 2016-2017), and Kathleen Wannemuehler (RPCV Kenya 1994-1996) built on our team experience from 2022 to surpass records, both number of runner registrations and total dollars donated.
---

 
Race Details
Year
Runners
Expenses
$$$ Donated
Race time weather
2023-Mar 4
383
$TBA
$TBA
45⁰F and cloudy during 5k; 10K with temps in the mid-30s,  brisk wind with wintry mix; recent snow but clear pavement;
2022-Mar 5
361
$3,693
$14,577
44⁰F; sun during 5K; 10K with driving rain and rainbow; clear pavement
2021-Mar 6-7
127
$1,471
$10,243
43⁰F; winds gusty S 17-26 mph, no snow or rain; partly sunny; all virtual
2020-Mar 7
252
$4,394
$6,900

50⁰F, winds gusty S 10-20 mph, no snow or rain, partly sunny, clear pavement (warmest Freeze)

2019-Mar 2
185
$3,073
$5,800
24⁰F; winds NNW 1-6 mph, no snow or rain; cloudy; snow/ice pavement
2018-Mar 3
174
$4,241
$5,533
42⁰F; winds SE 12-15 mph, no snow or rain; sunny; clear pavement
2017-Mar 4
273
$3,233
$6,138
36⁰F; winds ESE 18 mph, no snow or rain; partly sunny; clear pavement
2016-Jan 23
282
$3,012
$5,600
31⁰F; winds SW 10-11mph with a 17mph gust during the 10K, no snow or rain; clear pavement
2015-Jan 17
200
$1,634
$3,776
40⁰F; winds SW 9-10mph with 21mph gusts; light drizzle during 10K; clear pavement
2014-Jan 18
143
$1,176
$2,588
17°F; 10 mph winds; snow flurries during 5K; cleared snow on most of the run, except up the Edgewood College hill
2013-Jan 23
183
$580
$3,096
43°F; 20 mph winds, with strong headwind on last section of 10K; mostly sunny; no ice
2012-Jan 21
110
$994
$2,061
12°F; 0-2 mph winds; sunny; 3" of snow the day before was well plowed before race time; footing was slippery, but consistent; no ice
2011-Jan 22
137
$1,063
$2,659
12°F; windy; 1" new snow
2010-Jan 23
205
$907
$3,439
35°F; all pavement, no ice/snow
2009-Jan 24
117
$820
$2,378
5°F; no wind, hard snow on pavement
2008-Jan ?
83
$551
$2,085
0°F; 20 mph wind, icy, frigid cold
2007-Jan ?
160
$382
$2,795
25°F; no snow on pavement
2006-Jan ?
180
$770
$3,443
32°F; 3 inches fresh snow, sunny
2005-Jan ?
70
$688
$1,474
10°;F; v windy, 10 inches fresh snow
2004-Jan 
75
$668
$2,574
20°F; 2 inches fresh snow, patches of ice
2003-Jan 25
129
$700
$2,824
20°F; windy
2002-Jan 26
200
?
$3,300

50°F; (warmest FFF

2001-Jan 20
167
$500
$3,338
20°F; sunny, no snow; classic freeze
2000-Jan 22
120
$628
$2,901
25°F; cloudy; snow on ground
1999-Jan 23
?
$734
$2,200
33°F; cloudy; rainy
1998-Jan 24
?
?
$3,544
26°F; mostly cloudy; 0.06″ snow; SW winds 7mph
1997-Jan 25
?
?
$3,000
1⁰F; sunny; no snow; NW winds 5mph
1996-Jan 27
?
?
$2,400
9⁰F; mostly cloudy; no snow; SE winds 6mph
1995-Jan 28
?
$575
$2,773
24⁰F; mostly cloudy; 0.01″ snow; NW winds 15mph
1994-Jan 29
40
$350
$815
26⁰F; cloudy; no snow; SE winds 12mph
1993-Jan 23
?
$366
$865
26⁰F; cloudy; 0.02″ snow; SW winds 13mph
1992-Jan ?
56
$300
$831
5⁰F; sunny; no snow; NW winds 15mph
1991-Jan ?
108
$300
$1,474
40⁰F; mostly cloudy; no snow; SW winds 17mph
1990-Jan 27
106
$275
$1,205
31⁰F; cloudy; 0.05″ snow; NE winds 15mph
1989-Jan 28
81
$256
$1,076
31⁰F; sunny; no snow; SW winds 22mph
1988-Jan 23
98
$291
$1,621
11⁰F; cloudy; 0.03″ snow; S winds 5mph
1987-Jan ?
78
$246
$1,300
25⁰F; cloudy; no snow; little wind
1986-Jan 11
80
$204
$920
40⁰F; cloudy; no snow; SW winds 16mph
1985-Jan 12
110
$196
$2,042

-9⁰F; sunny; no snow; NW winds 21mph (coldest Freeze)

1984-Jan 14
89
$145
$839
1⁰F; cloudy; no snow; S winds 17mph
1983-Jan 15
106
$105
$622
32⁰F; cloudy; 0.08″ snow; NE winds 12mph
1982-Jan 23
45
$70
$335
7⁰F; wind chill -45⁰F; mostly sunny; 0.12″ snow
TOTAL TO-DATE (2022):
$39,591+
$127,384