杏仁茶 /Hung Yun Tsa/Chinese Almond Tea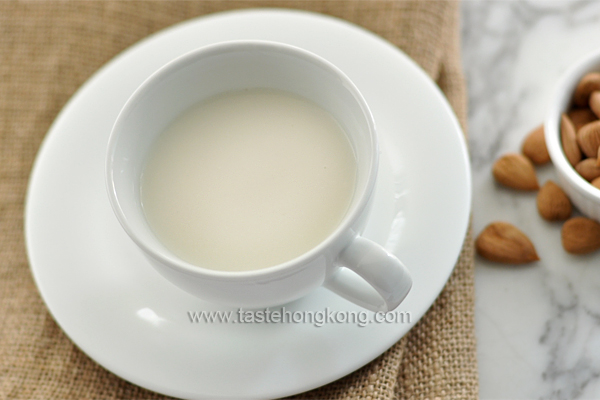 Chinese Almond Tea – Traditional Style
Almond tea was one of those fine foods the imperial families in the older days enjoy eating, folklores said. They also said that the imperial concubines loved to eat this for keeping their skin supple and glowing.
Nowadays, almond tea 杏仁茶 is often served as a dessert, a sweet drink. It can be made solely from Chinese sweet almonds (aka south almonds), or with the addition of rice for a creamier texture, the traditional way.
It contains no processed leaves but is called a tea because in some cases, tea also means a drink in Chinese.
Making almond tea, like preparing soy bean milk, is all about soaking the kernels, grinding them with water and finally straining out the juice. In this recipe, we also add rice, sticky rice to be specific. You may also use white rice for a thinner texture or brown rice for a healthier choice.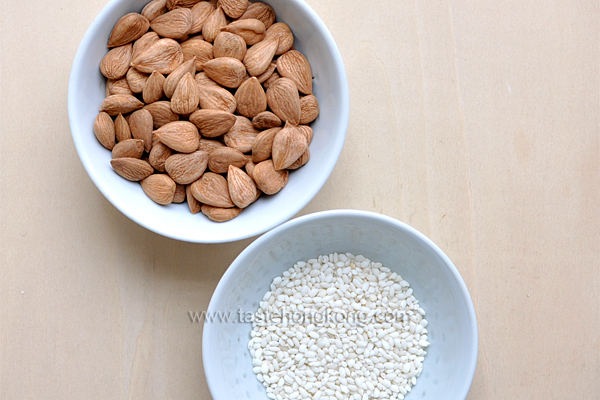 For further variation, also try the almond milk (without rice) in papaya, a steamed way.
With or without rice, it is still a dairy-free drink, packed with pungent almond flavor.
Skinning Chinese sweet almonds could be as easy as skinning chestnuts. Or, you may also opt for those already skinned. Check it out at stores selling Chinese dried foods or dried herbs. Mind you, ask for sweet almonds (南not bitter almonds (北杏).
INGREDIENTS:
100g Chinese sweet almonds (apricot kernels aka south almonds)
40g glutinous (aka sticky) rice
~3C water
~30g rock sugar, or to taste
INSTRUCTIONS: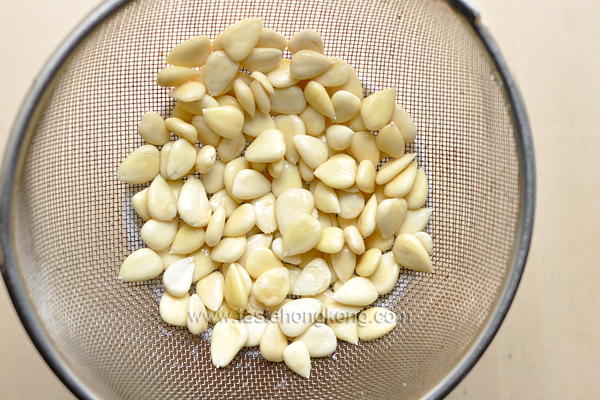 1. To skin almonds, blanch them in boiling water for about a minute and immediately drain the kernels in a colander and rub off their skins with a towel (like this).
2. Wash sticky rice. Soak it in water for about 3 to 4 hours or according to instructions (wash and soak skinned almonds too, about an hour or two). Discard water.
3. Pulse rice and almonds with water in a food processor until finely ground, about half to one minute. Line colander with a muslin or fine clean cloth; place the colander over a bowl or pot to catch the liquid, strain juice from the pulp (photos) as much as possible.
4. Pour the juice into a pot, filling it only half full because the almond milk will turn frothy and may spill. Then cook it over medium to low heat until it reaches a boil, stirring occasionally; you may add some more water for a thinner consistency. Add sugar, and simmer until dissolved.
Serve hot or chilled (I like it hot).
From: http://www.tastehongkong.com/recipes/chinese-almond-tea-traditional-style/
China 2014 - Recipes
杏仁茶 /Hung Yun Tsa/Chinese Almond Tea