Mesir Wat (Red Lentil Stew) with Ayib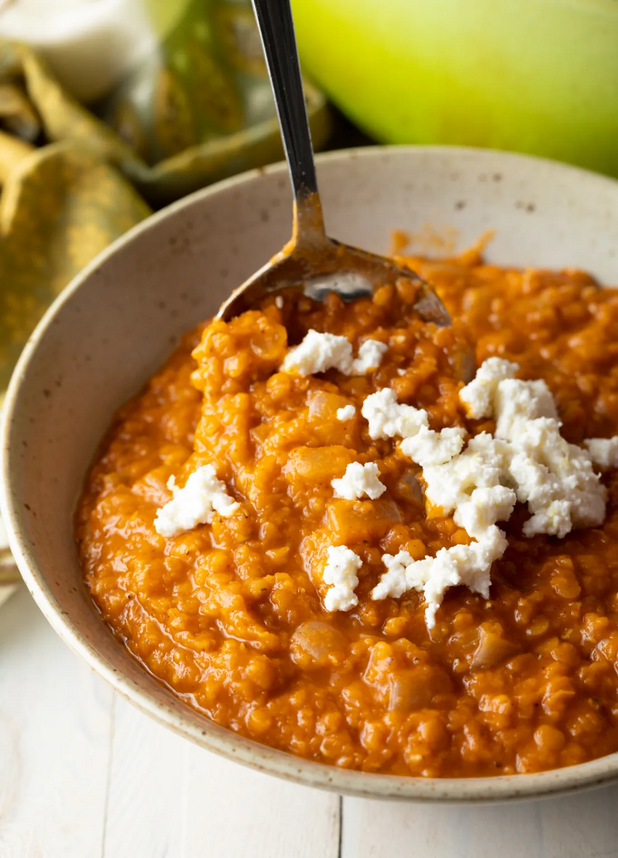 Classic Ethiopian Recipes are a celebration of exotic spices and slow-cooked flavor. Misir Wot (Mesir Wat), a traditional Red Lentil Stew, is both bold and comforting with a generous dollop of creamy Ayib cheese on top.
PREP TIME: 15 MINUTES
COOK TIME: 40 MINUTES
TOTAL TIME: 55 MINUTES
SERVINGS: 8
INGREDIENTS:
For the Mesir Wat Red Lentil Stew:
2 cups red lentils
1 large onion chopped
3 tablespoons butter
2 tablespoons fresh grated ginger
2 cloves garlic minced
1 tablespoon hot smoked paprika
1 teaspoon tumeric
1 teaspoon garam masala
2 tablespoons tomato paste
Salt and pepper
For the Ayib (Iab):
3 cups small curd cottage cheese
Zest of 1 lemon
3 tablespoons plain Greek yogurt
¼ teaspoon salt
INSTRUCTIONS:
For the Mesir Wat Red Lentil Stew:
1. Place a large sauce pot over medium heat. Add the butter and chopped onions and saute for 3-5 minutes, until soft. Add the ginger and garlic and saute another 2 minutes.
2. Next add the spices and tomato paste along with 2 teaspoons of salt. Mix well, then add the lentils and 6 cups of water.
3. Cover the pot and bring to a boil. Once boiling, lower the heat and simmer for 20 minutes.
4. Uncover and stir the lentils, then continue to cook uncovered for another 10-15 minutes until a thick porridge-like consistency is reached. Remove from heat and cover until ready to serve.

For the Ayib:
1. Rinse and drain the cottage cheese in cold water until only clean curds are left. Place the curds in a bowl and press them dry with paper towels until most of the moisture in removed and the curds have broken up.
2. Mix in the yogurt, lemon zest and salt. Refrigerated until ready to serve. To serve: Scoop the Mesir Wat into bowl and place a generous dollop of Ayib on top.
NOTES:
Berbere Paste or Spice Blend: If you happen to have Berbere paste on hand, you can use 3 ½ tablespoons in place of the paprika, turmeric, garam masala, and tomato paste. If you have Berbere Spice Blend, do not omit the tomato paste, but swap 5 teaspoons for the paprika, turmeric, garam masala.
Recipe from https://www.aspicyperspective.com/ethiopian-recipes/
Ethiopia 2023 - Recipes
Mesir Wat (Red Lentil Stew) with Ayib