Persian-Style Baklava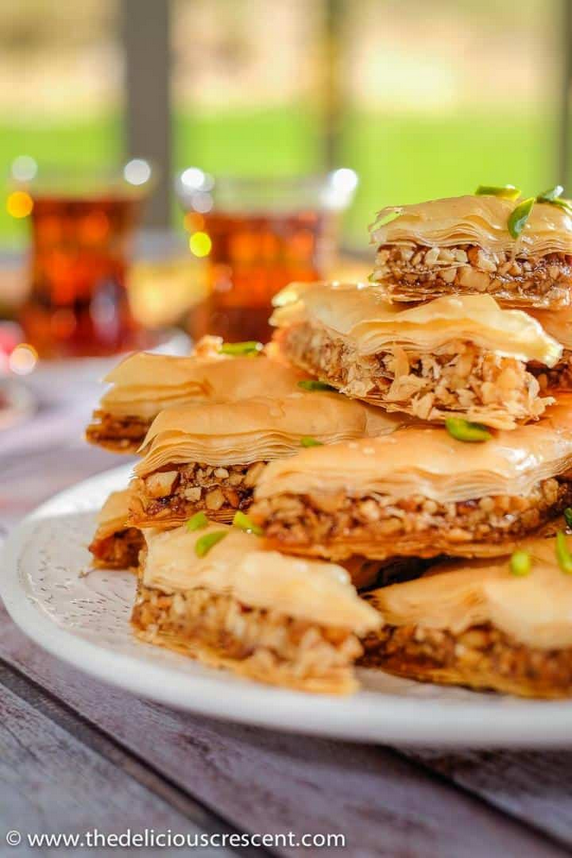 This Baklava is a piece of heaven! Flaky and crispy layers of pastry with toasted nuts soaked in juicy syrup and wrapped in mesmerizing aromas of rose water, cardamom and nutty brown butter. Not too sweet and quite different. With detailed step by step tutorial. It will take you a few minutes to read but can save you wasted attempts.
Prep Time: 40 mins
Cook Time: 50 mins
Servings: 70 pieces
Author: Roxana Begum || The Delicious Crescent
INGREDIENTS:
16 oz phyllo dough thawed, follow package instructions
12 oz butter unsalted, to make brown butter and will use about 2½ sticks (10 oz)

Filling
½ lb walnuts finely chopped, 2 to 2½ cups
½ lb almonds or pistachios, finely chopped, 2 to 2½ cups
¼ cup sugar
1 teaspoon ground cardamom adjust per taste
Syrup
1½ cups sugar
1 cup water
1 tablespoon lemon juice
2 tablespoons honey
2 tablespoons rose water
INSTRUCTIONS:
Thaw and Prepare the Phyllo Dough:
1. Thaw the phyllo dough following the package instructions. I thaw it overnight in the refrigerator and then let it come to room temp by placing on kitchen counter for 2 hours.
Tip: Check out my tips above for selection and handling of phyllo dough.

2. Phyllo dough is usually available as 17 x 12" (24 to 28 sheets) or 9 x 14" (40 sheets in two separate rolls). The 17 x 12 sheets fit perfectly in a 17 x 12 baking sheet or they can be trimmed to fit. If using the 9 x 14, just make more layers in a 9 x 13 pan.
Tip: Avoid using very deep baking dishes as they don't allow good oven heat exposure.

Make Brown Butter:
1. Melt unsalted sliced butter at medium heat in a skillet or saucepan. Simmer at low medium heat and stir frequently.
2. The foam will subside and milk solids will settle at bottom of pan. Let milk solids toast to amber brown color with a nutty aroma. Don't let it burn.
3. Quickly strain the light golden liquid from top through a fine mesh strainer/cheesecloth into a small sauce pan that can be heated if needed.
4. Although we use 3 sticks to make the brown butter, we will need only about 2 to 2½ sticks worth of butter and may have some remaining.

Sugar Honey Syrup:
1. Combine sugar, water and lemon juice in a medium saucepan. Bring to a boil over medium heat, stirring while the sugar dissolves.
2. Lower the heat and simmer for 5 minutes and add the honey. Continue to simmer 5 to 10 minutes until the syrup is thick.
3. Turn off the heat and stir in the rose water. Let syrup cool to room temperature.
Tip: The syrup should be sticky enough to hold all phyllo layers together, but not overly thick. Once cooled, the consistency should be between honey and maple syrup.

Prepare the Filling:
1. Pulse walnuts in a food processor until finely chopped. You may need to pulse 10 to 12 times until you get an even and fine grind size of nuts. Repeat with almonds.
2. Combine the processed nuts with sugar and ground cardamom in a mixing bowl or in the processor itself.
3. Turn off the heat and stir in the rose water. Let syrup cool to room temperature.

Pre-Assembly:
1. Keep the strained brown butter melted at all times during this process, gently warming it up (not hot), if it thickens.
2. Unroll phyllo dough and cover with a damp towel (not wet). I had 28 sheets in my package, so I layered them in stacks of 10 in bottom + 6 in middle + 12 on top, as below in baklava assembly. Trim phyllo to fit the pan before or after assembly.
Tip: If dough sheets don't separate easily, thaw a bit longer at room temp. I make sure that they are separating well beforehand, so I can assemble my baklava fast and seamlessly.

Assemble the Baklava:
1. Brush the bottom and sides of the baking sheet with butter. Place one phyllo sheet in the pan and brush with butter, followed by the next sheet and brush with butter. Continue this process until you have 10 buttered phyllo sheets in the bottom of pan.

2. Spread half of the nut filling evenly over the buttered phyllo sheets.

3. Take a buttered phyllo sheet and place the buttered side down over the nut filling (i.e., remove the towel, randomly drizzle butter on the top sheet and brush it all across. Transfer that sheet to the pan, buttered side down).

4. Now brush butter on the top of that sheet once again. Place an additional 5 layers of buttered phyllo sheets, making sure to brush each layer with butter evenly.
Tip: Gently press down the last sheet before buttering it.

5. Then spread remaining nut mixture evenly on the phyllo dough. Take a buttered phyllo sheet and place the buttered side down over the nut filling as we did in the previous step.

6. Once again brush butter on the top of that sheet. Place all the remaining buttered phyllo sheets on the top (total of 12). Brush the final layer generously with butter and drizzle extra melted butter all over.
Tip: Remember to gently press down after layering each phyllo dough sheet before brushing butter. This helps to compress, even out and get rid of any air spaces.

7. Recap the order of baklava layers: 10 buttered phyllo sheets in bottom + ½ nut mixture + 6 buttered phyllo sheets in middle + ½ nut mixture + 12 buttered phyllo sheets on the top.

8. With a very sharp knife, cut pastry into 2" strips at first, followed by cutting across diagonally to make diamonds shapes. Bake in center of preheated oven at 350°F for 25 minutes. Lower the temperature to 325°F and bake for another 25 to 30 minutes until golden brown.
Tip: Every oven is different, so watch the time and temperature and adjust. The idea is to bake through all the phyllo layers very well, while making sure the nuts don't get burnt in the process.
Refrigerate for some hours or freeze briefly to firm up the layers for easy slicing.

9. Remove from oven and pour syrup. Cooled syrup over hot baklava for softened baklava. Hot syrup over cooled baklava for soft but more crisp pastry, and warm syrup over cooled baklava for crisper baklava. It takes about 2 hours to cool baklava completely.
Tip: For homemade baklava, if pastry and syrup are hot, it can become soggy.

10. Flaky and Crispiest baklava: Pour syrup evenly over baklava after it has cooled down 2 hours. The baklava and syrup should be at room temperature before pouring the syrup (keep in warm place in cold weather). Let it soak 6 hours to overnight. All that syrup will get absorbed perfectly - I have done it hundreds of times. This results in a baklava that stays incredibly crisp and flaky for weeks. The baklava is perfect after a day or two.

11. Garnish the baklava with sliced or finely chopped pistachios. Cut through the layers once again before serving.
NOTES:
1. Make Ahead: Prepare the nut filling, brown butter or ghee and syrup up to 4 days ahead. Keep phyllo dough in refrigerator up to a week in advance. Assemble and refrigerate or freeze before baking. Thaw to room temperature and bake.
2. Storage: It can be stored at room temperature for two weeks, lightly covered with a tea towel, cheesecloth or a lid placed slightly ajar. Baklava can be refrigerated couple weeks or frozen couple months, but the best texture is when it is kept at room temperature.
3. You can either make your own brown butter or clarified butter or use ready made melted ghee. Brown butter or ghee gives an amazing flavor that takes this baklava up a notch and has a higher smoke point. Regular butter has over 15% water and that can cause uneven baking. And it can leave brown specks from the milk solids on the baklava.
4. Be sure to check out my detailed tips in the post, that I learned from years of trials.
5. Tips for vegan, gluten free, nut free, dairy free options in the blog post.
6. Healthier:
  o Combine brown butter/ghee with light olive oil, or use only olive oil as in this recipe. I use olive oil for my savory phyllo pastries as in my crispy samosas but haven't tried only olive oil for a sweet pastry.
  o Because the brown butter/ghee aroma is more intense, you can use less of that and combine with some neutral tasting oil. This recipe uses 2 teaspoons of brown butter for three pieces baklava. Use half oil and you cut down saturated fat, and still have good flavor from the brown butter.
  o Brown butter or ghee is also better for those with dairy sensitivity (lactose or casein).
  o And choose grass fed for greater health benefits from conjugated linoleic acid etc.   o For a refined sugar free baklava you could try a honey and orange juice based syrup as in this Persian Love Cake. Make sure to cook, such that the cooled syrup thickness is between honey and maple syrup.   o One piece of this baklava has 10 g carbs, out of which 6 g is from sugar. Use a low carb syrup, skip the sugar in the filling and this delicious dessert will be suitable for diabetics.
Recipe from https://www.thedeliciouscrescent.com/baklava/