Dhindo (Cornmeal Porridge)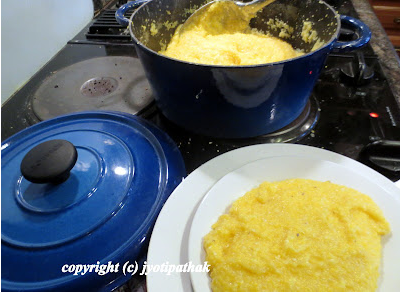 Recipe/instructions by Jyoti Pathak / Taste of Nepal blogsite
INGREDIENTS:
4 cups of water plus some more, if needed
½ teaspoon salt, or to taste
1 cup cornmeal (coarse or medium-ground) [Bob's Red Mill Organic Polenta, Corn Grits]
2 Tablespoons melted butter
2 tablespoons clarified butter (ghee)
INSTRUCTIONS:
1. Bring 4 cups of water and the salt to boil in a heavy-bottomed saucepan over high heat.
2. Once the water comes to a full boil, stir in the cornflower in a slow, steady stream with the left hand, while mixing vigorously and constantly with the right hand.
3. Mix well until well-combined, making sure there are no lumps in the mix. Constant stirring will avoid any lumps. This process is called बेस्करी िढडोँ मस्काउने (beskari dhindo maskaaune) in local terms, means vigorously stirring and turning the thickening mixture.
4. Reduce the heat to medium-low and continue stirring until dhindo thicken, and the mixture has lost its grainy texture.
5. Be careful the mixture pops and spatters and the bubble can burn the tender skin. Dhindo is ready when the porridge starts separating from the side of the pan. The mixture should be moist, neither runny, nor dry.
6. Remove from heat, stir in clarified butter, and whisk until mixed well. Pour steaming dhindo directly onto the plate or thaal and eat piping hot.

The taste of dhindo is usually bland, so it is always eaten with spicy liquids.

Serving dhindo in a brass plate - traditionally Nepali meals are served on a thaal- kachaura. A number of small bowls, known as kachaura, are placed on a round tray. Meat, vegetables, and daals are placed in the bowl, while rice, bread and dhindo are placed directly on the middle of the tray. This way the rice or dhindo does not get mixed up with other dishes and lets you sample each individual dish separately.

Serve with mustard greens sauteed with dried red chilies, chicken with spring onions, and a pickle platter consisted of fiery tomato chutney and khaadeko mula ko achaar (pickled radish).

Traditional Nepali dhindo can be served with chicken with gravy (kukhuraa ko maasu ko suruwaa), or sprouted 8-bean soup (kwanti) in a bowl. Try also tender mustard greens (raayo ko saag), stir-fried cabbage (banda-govi ko tarkaari), plain yogurt, fiery tomato chutney (piro golbheda ko achar) and few slices of cucumber and daikon radish. When it comes to Nepali food, you will have to say good bye to your fork and spoon. Be authentic and use your right hand to enjoy the meal.
Recipe from http://tasteofnepal.blogspot.com/2013/03/nepali-dhindo-cornmeal-porridge.html
Nepal 2023 - Recipes
Dhindo (Cornmeal Porridge)