Mshikaki (Marinated Beef Skewers)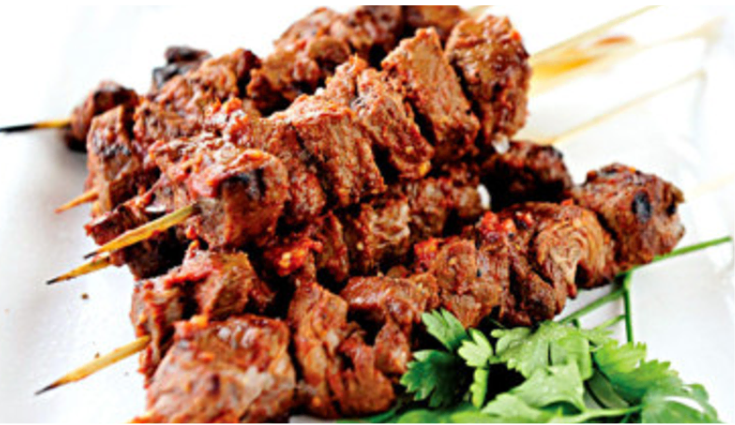 The cuisine of Tanzania has been influenced by Portuguese as well as Indian cuisine. The name of this popular Tanzanian and Kenyan street food dish, mshikaki, refers to skewered pieces of marinated meat such as beef, goat, or mutton that is slowly cooked over hot coals. The meat is marinated in a combination of various herbs and spices that are popular along Africa's eastern coast. This mshikaki (marinated meat) is very tasty, thanks to overnight marinating. The dish is most often enjoyed after dusk, when the vendors start to sell mshikaki at their stalls, and it is said to taste even better when accompanied by sauces or dips on the side.
Prep time: 15 minutes + overnight marinating
Cook time: 8 minutes
Serves: 2
INGREDIENTS:
350g steak, cut into cubes
1 tsp ground coriander
1 tsp paprika
½ tsp ground cumin
½ tsp chilli powder
½ tsp turmeric
½ tbsp fresh ginger, grated
1 garlic clove, mashed
1 tbsp tomato puree
1 tbsp oil
1 tbsp lemon juice
Black pepper & salt
INSTRUCTIONS:
1. Mix all the ingredients in a large bowl and marinate meat overnight or for at least 4 hrs in the fridge.
2. Skewer the meat on water-soaked wooden skewers.
3. Grill the meat skewers on an open coal BBQ, basting with marinate until cooked.
4. Serve with pita or wraps and salad leaves.
Recipe from https://ayearcookingtheworld.com/tag/mshikaki/
Tanzania 2023 - Recipes
Mshikaki (Marinated Beef Skewers)