Walnut-Stuffed Prunes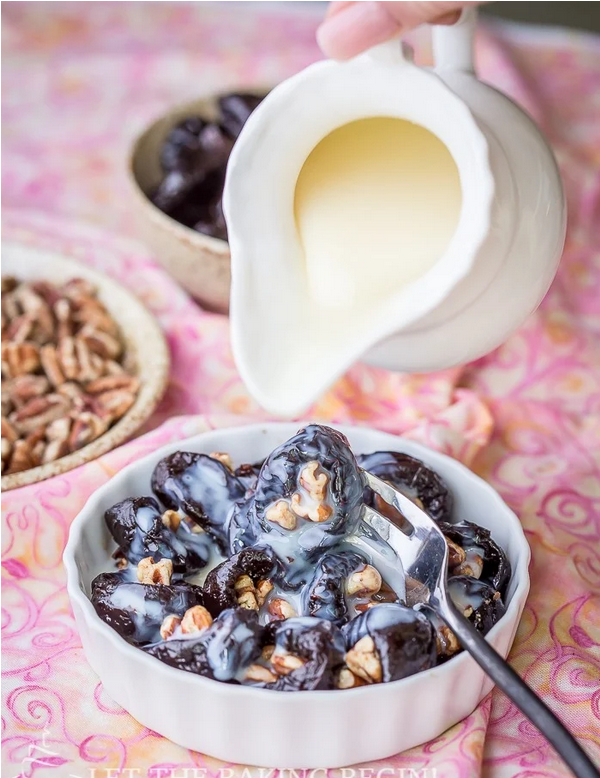 Walnut stuffed prunes are a simple, delectable dessert idea that is as tasty as it is good for you. Drench it in condensed milk for the full experience.
INGREDIENTS:
Walnut halves or quarters
Prunes
Condensed milk
INSTRUCTIONS:
1. Pour warm water over prunes and allow to sit for 1-2 hours. Once soft, drain the water and pat dry prunes.
2. Insert up to one half of the walnut into the prune. Repeat until desired amount is made.

To serve:
Place on a platter. Pour condensed milk over the prunes, trying to coat each one.
Recipe from https://letthebakingbegin.com/walnut-stuffed-prunes/
VERSION TWO:
Odessa-style walnut stuffed prunes
All the Christmas chores are not about rituals at all. They are about family, care, love, and warmth. About a holiday that gathers the whole family at the table once a year, without exception, and those who have become an integral part of it, like godparents. In an Odessa family, Ukrainians and Russians, Poles and Armenians, Jews and Bulgarians, Greeks and Abkhazians gather at one table. Everyone has their own religion, and our tables are not Lenten. But Christmas unites everyone and is equally loved in every family. Of course, you can cook kholodets in May, maybe it will even be tastier, but will so many events unfold around it in May? And whoever sits down at the Odessa Christmas table, there are always sweet prunes soaked in wine in a sparkling crystal serving dish, with a crunchy walnut in the middle, and a huge snow cap of airy cream.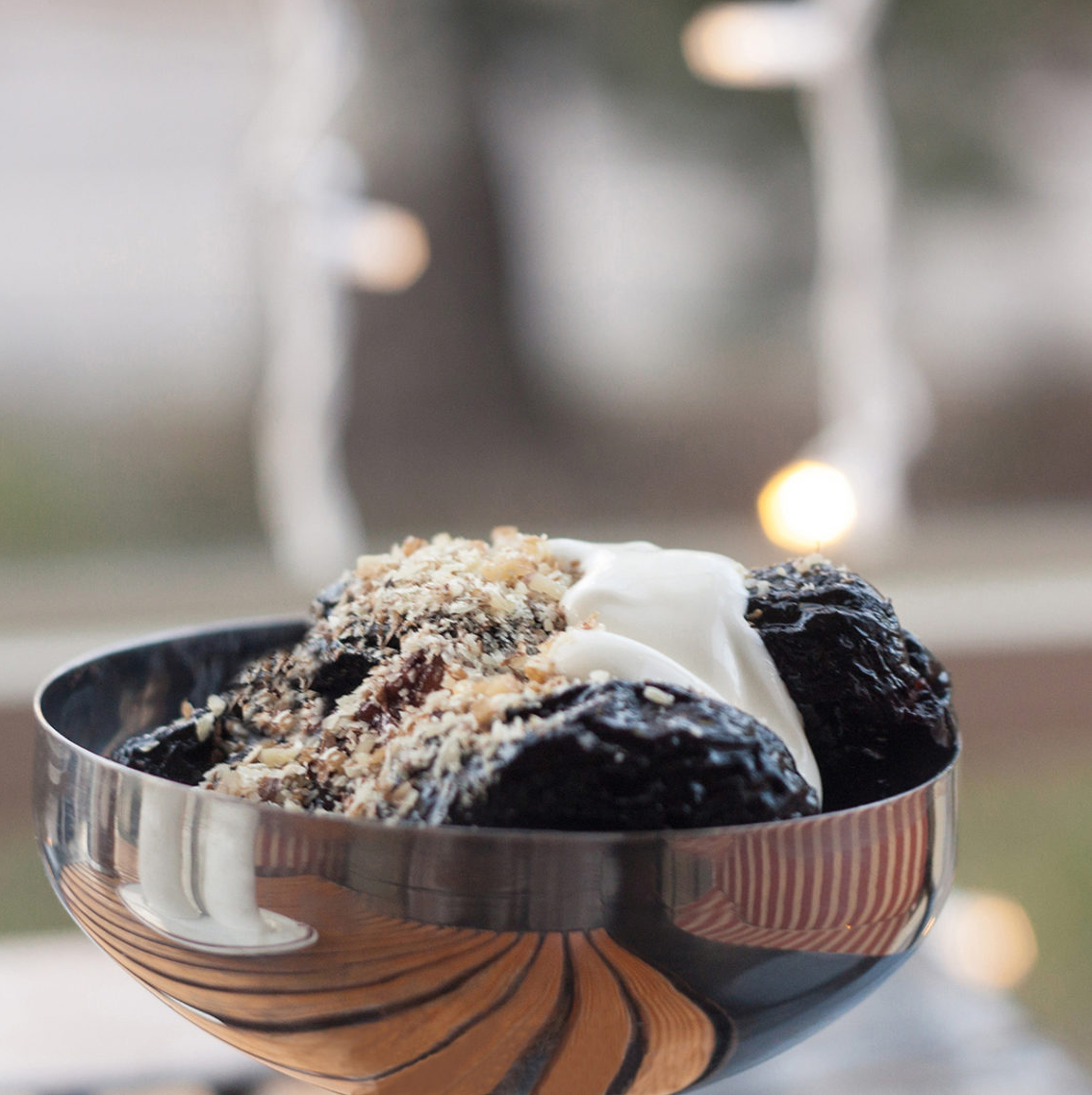 Prep time: 25 minutes + 2-3 hours cooling
Cook time: 15 minutes
Serves: 2
Cookware: saucepan
Cuisine: Odessa
INGREDIENTS:
350 g pitted prunes, dried or smoked
250 ml dry red wine
250 ml hot water
150 g sugar
150 g walnuts
200 ml sour cream, at least 30% fat

For the decoration:
nuts or chocolate, finely grated
INSTRUCTIONS:
1. Cook the syrup. In a bowl, mix water, wine, and sugar so that the sugar is completely dissolved. Put prunes in a saucepan, pour over syrup. Put on the heat, and bring the syrup to boil. Then drain the syrup, put the prunes on a paper towel and let them to cool and dry.
2. Heat the oven to 160°C. Cover the baking sheet with parchment paper. Put walnuts on it. Dry the nuts in a preheated oven for 3-5 minutes. Take out, and let them cool.
3. Insert ¼ of the walnut into each prune in place of the pits. Put the prunes in a serving dish. Top with sour cream. Cover with cling film. Refrigerate for 2-3 hours. Sprinkle prunes with grated nuts or chocolate before serving.
Tips and Tricks:
When you go to the market for prunes, choose the larger and fatter ones. And, of course, it's better to buy them pitted. But if you buy the prunes with pits, then gently take them out after boiling the prunes in the syrup, and while they are still hot. My recipe has two secrets. First, I dry the nuts lightly for a more intense flavour. The second, since I cook prunes in sugar syrup, I don't add sugar to the sour cream, and it remains thick, does not flow and lies like a beautiful white cap.
Recipe from http://www.myodessacuisine.com/en/recipes/odessa-style-walnut-stuffed-prunes/