Pan de Yucca/Cheesy Yuca Bread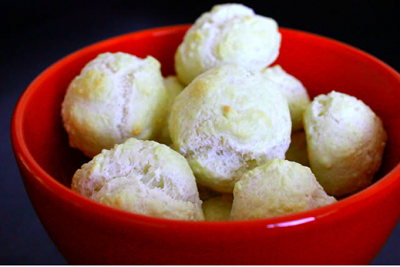 Prep Time: 15 minutes
Cook Time: 15 minutes
Total Time: 30 minutes
Yield: 15 bites
INGREDIENTS:
1 cup tapioca starch
1 cup shredded/crumbled queso blanco (I used Queso Colombiano)
1 egg, slightly beaten
1 tsp baking powder
Water
INSTRUCTIONS:
1. Preheat the oven at 375F.
2. In a bowl, combine the starch, cheese, egg and baking powder and start kneading into a dough. Since the dough will be crumbly at first, start adding water 1-2 tbsp at a time until it sticks together and forms a ball.
3. Begin pinching smaller balls off the dough and form little bites, about the size of a ping-pong ball. Place the dough balls on a cookie sheet lined with parchment paper, and bake for 15 minutes until golden brown.
4. Serve immediately.
Read more: http://www.tstastybits.com/2011/05/pan-de-yuca/.
Ecuador 2014 - Recipes
Pan de Yucca/Cheesy Yuca Bread