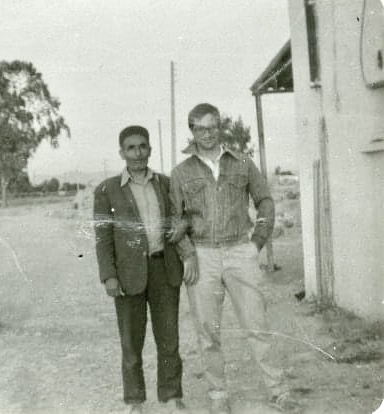 [Karl Stark was a Peace Corps volunteer in Tunisia from 1980-1982]
Summer, 1981. Chaout, Tunisia. I joined the Peace Corps right out of college so I was in my early twenties when this photo was taken. I had loaned my camera to a trusted friend and taught him how to aim and focus and he gifted me with a roll of photos of the villagers at work and play - unposed and relaxed and extraordinarily well composed. I would rediscover the negatives forty years later, had them developed and mailed them to the Chaout postmaster who distributed them among the families in the photos. In 1981 few rural Tunisians had access to a camera so the photos of the older generation who have since passed on - like the man shown here- are treasured by the people living in Chaout today.
Gosh, I was thin. Because I had no refrigeration I shopped daily and, since there was no butcher in town, the only meat I ate on a regular basis was chicken. The chicken man visited on Friday (the sabbath) with his cart full of skinny hens - very much alive and as unhappy as commuters on the New York subway at rush hour.
Tunisian cuisine is spicy and heavy on the vegetables - chickpeas, tomato paste and eggplant are common ingredients - but with the variety of dishes available the scarcity of meat didn't feel like a deprivation.